CME: JBS Surprises US Meat Markets
US - US meat markets were caught by surprise by news that JBS, the big Brazilian beef company, was looking to acquire Pilgrim's Pride, the top broiler producer in the US, write Len Steiner and Steve Meyer.
It is not, however, an unprecedented move given the strategic goal of JBS to become the largest diversified meat company in the world. In that effort, the company has sought to continually bolster its position in the global meat trade by buying established US brands, benefiting from their low valuations and the relatively strong value of the Brazilian currency Real vs. the US dollar. The top Brazilian beef company has already been very active in the US beef market space, quickly becoming the third largest US beef packer after acquiring Swift and the beef operations of Smithfield.

However, JBS was unable to complete its intended purchase of National Beef Packing, currently listed as the fourth largest US beef packer. The Justice Department Anti-Trust division filed suit seeking to block the merger, which would have likely caused JBS to match Tyson Foods as the largest US beef packing operation. What started as a series of rumors and a brief Reuters note based on the reporting of a South American newspaper, became a full blown news story after the Wall Street Journal decided to run a detailed piece under the title "Brazilians Bid for US Meat Titan." The story will appear in the Thursday edition of the paper.

Based on the WSJ reporting, it appears that at the moment negotiations are ongoing and that the takeover is far from a done deal. Clearly the move is intended to further diversify JBS operations and also provide it with a foothold in an industry that has shown tremendous growth over the last two decades. It is a path towards diversification that was taken by another company, Tyson Foods, when it rose from a primarily poultry processor to a diversified meat giant by purchasing then beef market leader IBP.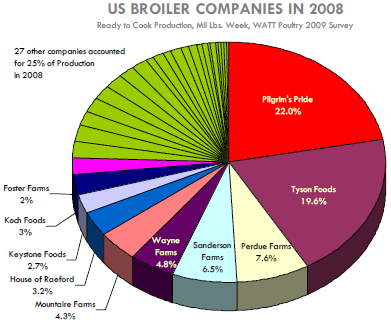 It is unclear what position the Justice Department will take should the takeover be completed. The merger does not represent an increase in concentration in the poultry industry because JBS currently does not participate in that market. However, the move does represent further concentration in the meat industry as a whole by reducing the number of companies actively engaged in various segments of the US meat market. Broiler producers will likely look at this development with some worry.

The weak financial position of Pilgrim's Pride helped some competitors to gain market share. If JBS enters the picture, it is likely that we could again see the competition for market share flare up, leading to supply increases that would negatively impact not just chicken prices but beef and pork prices as well.