CME: Prices Do Not Encourage More Output!
US - With last week's focus on Cattle on Feed and this week's focus on the quarterly USDA Hogs and Pigs report, we thought it an opportune time to update developments in the poultry sector, write Steve Meyer and Len Steiner in their DLR for 24 September.
JBS's recent announcement that it had agreed to buy controlling interest in Pilgrim's Pride is, we think, a confirmation that things are improving in the broiler business. Lower corn costs have put chicken producers near or at breakeven levels in spite of almost ridiculously expensive soybean meal this summer. And the coming break in soybean meal prices will help chicken producers' bottom lines even more. Decatur cash soybean meal was still near $400/ton last week while October SM futures closed Thursday at $284/ton. Chicken diets contain a high proportion of bean meal, so that kind of price reduction when harvest get rolling will be welcome indeed to chicken companies' bean counters.

Production data confirm some slow improvements in the business as well. Weekly broiler production, which has not been above year-ago levels in any non-holiday week this year, has climbed steadily back toward 2008 levels since July and has been down less than 1.5 per cent, year-on-year, in 5 of the past 7 non-holiday influenced weeks.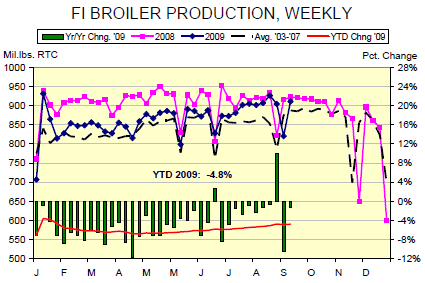 A quick perusal of chicken cut prices drives home the point that this summer's increases are cost driven. Boneless/ skinless breasts sold for an abysmal $1.20/lb. last week while leg quarters were a respectable $0.42/lb. but FAR below the $0.50/lb. they fetched in May and June when it appeared chicken benefited from pork's H1N1 demand and export difficulties. The composite broiler price dropped last week to its lowest level ($0.7384/lb.) since late 2007. Prices are NOT encouraging more output!

As for the rest of this year, it appears that the recovery may well continue. Broiler egg sets have also climbed steadily climbed with last week's sets being within 2 per cent of year-ago levels for the first time since June 2008. While the late-summer seasonal downturn has, like last year, been more abrupt than normal, it has not been quite as dramatic. With higher weights and higher placement- to-set ratios, we could still see broiler production exceed 2008 levels in some weeks this fall — especially if meal does in fact fall to $270/ton or even less.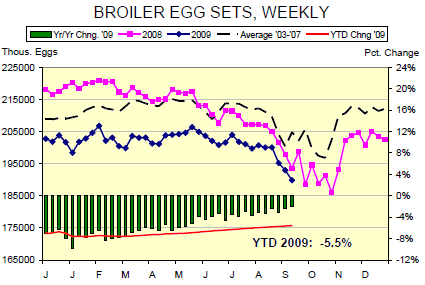 A number to watch in Friday's Hogs and Pigs report will be the Dec-Feb farrowing intentions. We think that number has the potential to be high relative to the breeding herd. The reason? Cool temperature this summer were very conducive to high conception rates. Moreover, those same cool temps will be conducive to larger litters than normal in December-February, potentially increasing market hog supplies next summer relative to their normal seasonally-low levels. The litter-size impact of hot summer temperatures is not as large as it once was due to the widespread use of artificial insemination. But the impact is still there and this year's unseasonably cool weather may mitigate it.