International Broiler Specialists Meet in Bavaria
GERMANY - The latest developments in broiler and hatchery management were the focus for the 30 participants of the Cobb Germany summer get-together in Bavaria.
Joining Cobb Germany market managers from 20 countries were leading figures from Cobb and Wimex hatcheries, production managers and three guests from HatchTech – Dr Ron Meijerhof, Mathieu Woltring and Huibert Jan van Veelen.

The principles of the successful hatchery management were described by Dr Meijerhof who emphasised that the chick should develop naturally.

Mr Woltring spoke about the new One-O-Four Hatch Traveller chick truck system, designed to improve efficiency in the future.

"It is important to follow the best hatchery procedures to boost the advantage of the Cobb 500 against the competition," said James Truscott, director of Cobb Germany.

He added: "That's why we invited the specialists to get together to show just how to gain full benefit from the breed's increasing genetic potential and so contribute to the success of our customers."

Speakers agreed that the hatchery process has a big influence on broiler results, with special attention needed also in bird management and correctly formulated feed.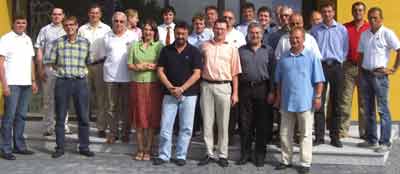 Delegates at the Cobb Germany meeting in Bavaria