International Egg and Poultry Review
INDIA - By the USDA's Agricultural Marketing Service (AMS). This is a weekly report looking at international developments concerning the poultry industry. This week's report focuses on India's poultry industry.
India is one of the world's top poultry and egg producing countries, ranking third in egg production, fifth in chicken production and seventh in duck production. India has a population of 1.2 billion and slightly more than half of India's workforce is in agriculture. Agriculture accounts for 17.6 per cent of the country's gross domestic product (GDP) and 60 per cent of the labour force. India's economy posted an average growth rate of over 7 per cent from 1997 to 2007, reducing poverty by about 10 per cent.

Poultry meat is the fastest growing animal protein in India. Integrated poultry production practices have lowered the price of poultry, and higher consumer income had increased demand for poultry meat and eggs. Per-capita consumption was 870 grams in 2000 and is expected to reach an estimated two kilos in 2009. Even though 20 per cent of the population is vegetarian, with the rise of middle class and increased urbanisation more people have gone for non-vegetarian.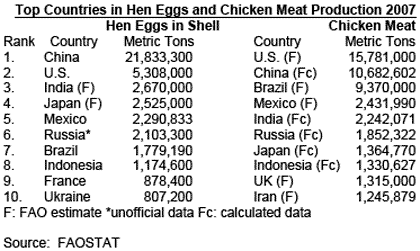 The traditional backyard sector contributed to 23 per cent of the total egg production in 2005-06, down from 33 per cent in 1999-2000. The annual growth rate for improved chickens was 9.51 per cent compared to only 3.99 per cent for native fowl from 1997 to 2003.

India's Central Poultry Breeding Farms spent years promoting poultry production along industrialised commercial lines and now about 70 per cent of production management and marketing is now under a highly organised sector. The remaining 30 per cent is in backyard poultry production. Private sector contract farming systems and vertical integration systems have contributed to production increases averaging 13.9 per cent for poultry meat for the period 1995 to 2005 according to one study. In 2005, almost 37 per cent of broiler production was under contract. Commercial poultry producers are rearing hybrid chickens to ensure faster growth and better feed conversion. The body weight which was achieved at eight weeks of age in the eighties is now possible at 35 to 40 days of age and the feed conversion rate has improved from 2.5 to less than 2.0.

Integrators include large regional firms that incorporate all aspects of production, including the raising of grandparent and parent flocks, rearing DOCs, contracting production, compounding feed, providing veterinary services and wholesaling.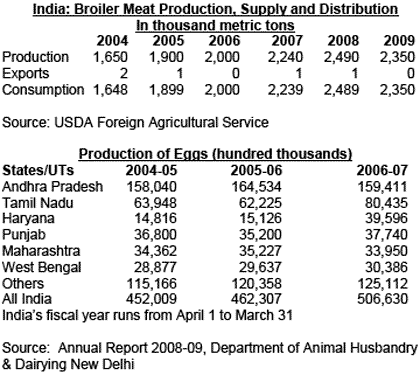 India has four Central Poultry Development Organizations (CPDOs). These CPDOs procure breeding stock of low input technology developed ICAR, State Agricultural Universities, Private Sectors and NGO's. During 2008-2009, these organisations supplied nearly 118,000 parent stock. In addition, 1.02 million commercial chicks and 1.6 million hatching eggs were supplied for the production of day old commercial chicks. They also supply analytical laboratories to monitor feed quality, training programmes and random performance testing. Poultry development concentrates on chickens but the department has started diversification to include duck, turkey, Guinea fowl and Japanese quail.

Source: UN Food and Agricultural Organization; Government of India; USDA; news wires
India extends tax holiday
The Government of India extended the tax holiday benefit for the assessment year 2010-2011 to businesses processing, preserving and packaging meat and meat products, poultry, marine and dairy productions. The tax holiday went into effect in April 2009. The poultry industry has complained that the high cost of transportation and limited availability of cold storage facilities has limited growth in the poultry processing sector.

Over 90 per cent of broilers are sold in wet markets, and only 10 per cent are sold as processed chicken.

The food processing industry is constrained by the lack of adequate infrastructure, such as cold chain, packing and grading centers, adequate quality control and testing infrastructure.

Source: Annual Report 2008-09, Department of Animal Husbandry & Dairying New Delhi; news wires
Further Reading