Recreating Time When Geese Walked to London
UK - The Essex village of Gosfield turned back the clock last weekend to the days when geese spent the night there en route to London markets.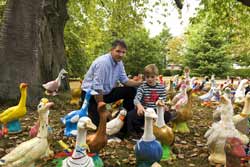 Goose producer Howard Blackwell and his son, Tom, among the geese at St Margaret's School, Gosfield
More than 1300 brightly coloured geese decorated the gardens, streets and open spaces – life-size replicas painted by some 600 children at schools in the village as part of an annual charity fund-raising activity.

For the past six years local art teacher, Georgie Roy, has been organising scarecrow trails around the village, which have raised more than £60,000 for charity. This year, she decided to base the theme on local history.

"The name of our village is associated with the time when flocks of geese were driven from Norfolk to London," says Mrs Roy. "It must have been a remarkable sight seeing all the geese arrive in the village each autumn and we thought a goose trail would be a wonderful reminder of those days."

One of the children who took part was Tom, the eight-year-old son of goose producer Howard Blackwell, who lives a few miles away at Herons Farm, Coggeshall.

"It was an absolutely stunning sight to see the geese lining every street and gathered in the park – an amazing amount of time and work had gone into organising the feat," he said.

Through the centuries geese have been walked from the main production areas in Norfolk and Suffolk to markets in London. According to tradition, their feet were first dipped in tar and sand to help withstand the journey.