São Paulo Poultry Farm Seeking Clients Abroad
BRAZIL - Céu Azul Alimentos, which already exports to over 70 countries – among them the Emirates, Jordan, Kuwait and Iraq - is seeking new clients on the Arab market.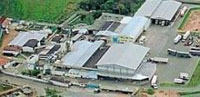 The poultry farm slaughters 8,000 birds a month
"The intention of companies is to increase the volume of slaughter for export, but we are still a little worried with the appreciation of the Brazilian real," explained the development coordinator at the company, Luciane Del Rio Nunes.

To expand sales abroad, the company plans to invest in participation in international sector fairs and in visits to traditional importers. "The Arab nations also purchased a small volume of our exports, but there is enormous potential for development of the region," said Luciane. According to her, sales to the foreign market are direct or thorough representatives. Céu Azul produces 8,000 tonnes of chicken a month and employs about 3,000 people. Of the total produced by the company, 60 per cent goes to the foreign market. "We export our special cuts of chicken, mainly boneless and skinned," he said.

"The company has strict quality control, managed by a team of highly-trained professionals to guarantee healthy food for our consumers," he pointed out. Céu Azul sells products under the Frango Santa Rita, Grand Frango and Frango Bino brands.

Céu Azul Alimentos incubator
The company's first exports were in 1996, to Hong Kong. Japan buys mainly wings and knees. Other parts like the foot and skin, which are normally discarded in Brazil, are considered true delicacies in the East. Knee, skin and bird chest cartilage are consumed as appetizers or used by the Japanese in soup and stew making.

Established in 1974, in Itapetininga, Céu Azul Alimentos is not just a slaughter unit. The group is present in the entire cycle of production of birds, which begins in the incubation of eggs, includes the breeding of chicken, production of feed for birds using its own raw material and slaughter.

According to the coordinator, Céu Azul Alimentos is prepared for export to the countries in the European Union and also to countries that need specific certification, like South Africa, Singapore, Canada, Japan and Russia.