Study Finds Indian Duck/Prawn System Sustainable
INDIA - Abraham and Ravindran of the College of Veterinary and Animal Sciences at Pookot, Wayanad in Kerala describe how fresh prawn waste can be fed to ducks to produce the eggs for human consumption in a sustainable system. Their paper is published in International Journal of Poultry Science.
Abraham and Ravindran report their study on the duck rearing system for egg production in the coastal belt of Aroor region in Kerala state, India.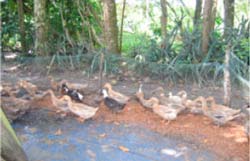 Ducks feeding on fresh prawn waste
It was carried out by means of structured questionnaire designed to collect data on socio-economic and husbandry factors affecting production. This system was unique in that the birds were fed on Fresh Prawn Waste (FPW), a waste product of prawn processing industry.

The internal and external qualities of eggs laid by ducks fed on fresh prawn waste were compared with ordinary market eggs.

The study revealed that this system was the most economical enterprise compared to any other animal husbandry enterprises in this region. The fresh prawn waste not only incorporates a salmon red colour to the yolk (due to the pigment xanthene) but also improves considerably the egg weight, albumen index, yolk index and shell quality. This system demonstrate how a waste product, which was causing environment pollution can be effectively and economically utilised to produce high quality balanced food in the form of eggs for human consumption.
Reference
Abraham J. and R. Ravindran. 2009. Studies on the Aroor system of sustainable duck rearing in Kerala, India. International Journal of Poultry Science 8 (8): 804-807
Further Reading