Aviagen's European Team Focuses on Ventilation
NETHERLANDS - Aviagen's European technical team recently held a three-day meeting as part of the company's ongoing programme of improving customer support through effective information exchange and training.
This biannual meeting, which was held in the Netherlands, saw thirty technical managers, representing eleven different countries from throughout Europe, come together to take part in a variety of topical and practical sessions. Some of the topics included a focus on ventilation, hatchery management, egg break-outs, identifying true fertility on freshly laid eggs and male management.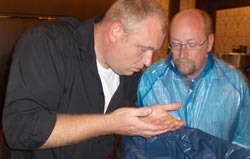 Maurice Sander (Aviagen EPI) and Dave Watts (Aviagen Ltd)
Otto Van Tuijl, Technical Director, Aviagen EPI, said: "Our regular European Technical team meetings are of great value not only to us but also to our customers who benefit from the synergy in advice and experience generated by these meetings.

"This year's focus on ventilation means that we are in an even better position to advise our customers, especially in the coming winter months, about this important area. The wide variety of climate conditions across the European region means that it is vital that our staff are as well trained as possible to provide the most effective advice and support to our customers."

The ventilation training was conducted at the Barneveld Poultry Training College. Aviagen works closely with many universities and colleges to help with research in various technical areas. The team also took time for a cultural break with a visit to the Poultry Museum at Barneveld.