CME: Current Situation Index in August Down
US - One sector that will have to improve before meat demand in general and beef and chicken demand in particular improve is restaurants — and the monthly Restaurant Performance Index from the National Restaurant Association (NRA) says that is not happening yet, write Steve Meyer and Len Steiner.
The August index fell 0.2 per cent from July and now stands at 97.9. Index numbers below 100 indicate contraction while those over 100 would indicate expansion. The index has been below 100 since October 2007 and bottomed at 96.4 last December. Four months of gains ended in May and the index has moved more-or-less sideways since that time.

The Restaurant Performance Index is actually a combination of two indexes — the Current Situation Index and the Expectations Index. The Current Situation Index stood at only 96.0 in August, down 0.9 per cent from July. That drop, the largest in nearly a year, was driven by deteriorating sales and traffic, according to NRA. The per centage of operators reporting same-store sales growth from August 2008 to August 2009 was only 17 per cent, the lowest figure in the 7-year history of the index. The Expectation Index measures operator's six-month outlook for major industry indicators. It gained 0.5 per cent in August and stands at it's highest level since April at 99.9 per cent .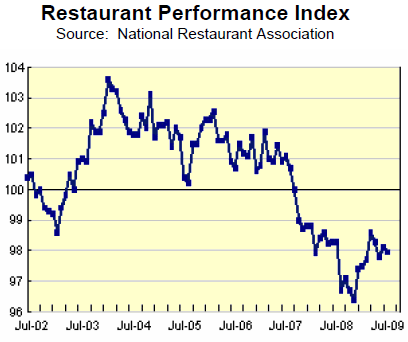 A few months ago, we solicited some input regarding some "everyday terms" that some readers might not completely understand. Today we are going to address a few of those. We ask you veterans to bear with us while we help out the newcomers a bit.
FI — as in FI hog slaughter or FI beef production means Federally Inspected denoting that the slaughter or production in question occurred in slaughter plants in which operations are overseen by inspectors from USDA's Food Safety Inspection Service. FI slaughter and production accounts for the lion's share of beef, pork, chicken and turkey output but there is still some processing done at state-inspected plants. The product from state-inspected plants cannot move across state lines at present. There has been talk of dropping the interstate shipment restriction as long as the state-inspected plants meet federal standards. The major drawback to allowing interstate shipment is that product from state-inspected plants could find its way into export markets and importing countries do not recognize federal-state equivalency. Allowing interstate shipment will almost certainly be used by some countries to block imports from the US


Cutout value — the value of a carcass based on the weighted average value of its parts. For a hog carcass, this value would be determined, for instance, by (Ham Price x Pct of carcass comprised of ham) + (Loin Price x Pct of carcass comprised of loin) + . . . with all wholesale cuts included. The same type of formula determines the beef cutout value. The standard hog carcass in the US has the head, leaf lard (internal fat) and all internal organs removed but still has the skin on and feet attached. The standard beef carcass has the hide removed, head and feet removed and all internal organs removed.


Yield — the per centage of live weight accounted for by the standard carcass. Hogs will yield, on average, 74-76 per cent meaning that the standard carcass will weigh, on average, between 74 an 76 per cent of live weight. A 260-lb. live hog that yields 75 per cent will have a 195-lb. carcass. Fed steers and heifers yield from 60-64 per cent of live weight. Yields vary greatly depending on genetics, feed regimens and the time of year — especially for cattle whose live weight can sometimes include a good amount of mud when the weather is bad. Yield per centages are also used to convert live prices to carcass prices (carcass price = live price/yield) and vice versa (live price = carcass price x yield).


Broiler egg sets — the number of eggs placed in incubators to hatch broiler-type chickens. The incubation period for chicken eggs is 21 days.
Further Reading
| | | |
| --- | --- | --- |
| | - | You can view the NRA's monthly Performance Index report by clicking here. |