CME: Larger-than-Expected Corn Production Indicated
US - USDA's monthly Crop Production report and World Agricultural Supply and Demand Estimates, released on Friday, indicated larger- than-expected corn production and smaller-than-expected soybean output this fall, write Steve Meyer and Len Steiner.
The soybean numbers were farther from average prereport estimates and drove CME Group Soybean futures 22 to 28 cents/bushel higher for the 2009-2010 crop year. Soybean meal futures also rose by $5 to $7.60/ton while soybean oil futures gained $0.61 to $0.64 per cwt.

USDA lowered 2009 ending corn stocks to 1.674 billion bushels to reflect last week's Grain Stocks report. It also lowered its estimates of both planted and harvested acres for corn from September levels. Both are still larger than in 2008. USDA's projected average yield of 164.9 bu./acre was over 2 bushels higher than the average pre-report estimate (162.7) and represents a new record corn yield. The higher yield more than offsets lower harvested acres to give an estimated corn crop of 13.018 billion bushels, again a record. Feed and residual usage was increased by 50 million bushels while exports were decreased by the same amount. Other minor changes left projected total usage at 13.03 billion bushels — another record. Still, the projected 2010 year-end stocks-to-use ratio is over 1 per cent lower than this year's level. USDA's forecasted range for the national weighted average farm price of corn did not change from the September report. The mid-point of that range, $3.35/bushel is 18 per cent lower than last year's projected average price, reflecting lower corn demand primarily driven by lower oil and ethanol prices.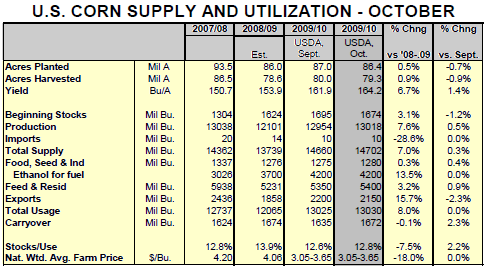 USDA's projected year-end stocks of soybeans, increased to 138 million bushels to reflect the Grain Stock report, leave us economists encouraged. They indicate that prices indeed do ration scarce supplies! Tight projected year-end stocks have kept beans and bean product prices high all summer and they apparently worked. Isn't it great when reality aggress with theory!

The soybean forecasts were definitely closer to the low end of pre-report estimates even though USDA's predicted yield of 42.4 bushels per acre would be the second largest ever and the projected crop of 3.25 billion bushels will be the largest ever. Higher crushings and exports both use a portion of that larger crop but 2010 year-end stocks are now forecast to be 230 million bushels, two-thirds larger than this year and representing 7.3 per cent of projected usage.