CME: Output Numbers Will Not Drive Feed Prices
US - Dow Jones' monthly pre-report survey regarding Friday's monthly Crop Production and World Agricultural Supply and Demand Estimates indicates that the old adage "A big crop gets bigger" is still alive and well among crop market analysts, write Steve Meyer and Len Steiner in their Daily Livestock Report for 6 October.
The ranges and average of the estimates for yield, production and 2010 carryout stocks for both corn and soybeans appear in the table below.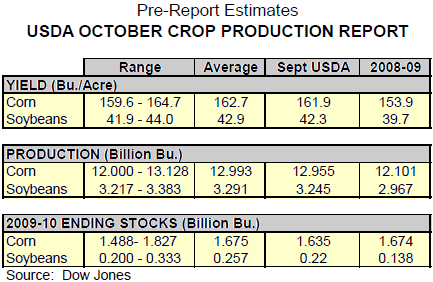 In all cases, analysts expect Friday's numbers to be larger than USDA's September estimates. The obvious reason for that is that we have largely dodged damaging frost problems with these late-maturing crops, keeping yield estimates high and thus driving production and carryout stocks higher as well.

These estimates, should they be accurate, would establish a number of new records. The estimated corn yield would be a new record, breaking the previous one of 160.4 bu/acre in 2004. The average estimated corn crop would be the second largest on record but 10 of the 23 surveyed analysts have this year's crop pegged at larger than the record 13.038 billion bushels set in 2007. The average of analysts' predicted soybean yields would also be a new record, eclipsing the old record of 42.7 bu/acre set in 2006. Every surveyed analyst is predicting a record-large soybean crop — which isn't a big surprise considering predicted high yields and this year's record number of soybean acres.

The average predicted 2010 corn carryout stocks, though, are hardly any larger than this year's year-end stocks in spite of a 7.4 per cent predicted increase in the corn crop. The reason, of course, is higher usage. Ethanol production is forecast to use 525 million more bushels and 250 million more bushels are predicted to be exported this year. That number may be conservative given the continued decline in the US dollar — a major factor in today's rally in CME Group Corn futures prices.

BUT EVEN THESE BIG OUTPUT NUMBERS WILL NOT DRIVE FEED COSTS SUBSTANTIALLY LOWER AND SHORT-CIRCUIT THE CURRENT DOWNSIZING OF THE US AND CANADIAN ANIMAL PROTEIN SECTORS. They help, but they will not get costs near pre-biofuels levels, thus necessitating lower animal protein supplies in order to drive prices higher. It could be worse, no doubt, and the entire sector is thankful for the good turn of the weather this summer. But many producers are still losing money and will have to exit or scale back output soon if they have not done so already.

Michigan's egg and pork producers became the latest producer groups to enter into an agreement with the Humane Society of the United States (HSUS) to provide more room for hens and sows and avoid a ballot initiative in 2010. The move comes after efforts to codify various industry quality assurance programs as "standard practices", make the Michigan Department of Agriculture the sole authority for animal health and well-being programs and authorize a state animal care advisory board became bogged down in the legislature. In addition, polling indicated that Michigan voters would pass a ballot initiative that banned layer cages and gestation stalls. We are sure the Michigan groups had observed the failures of campaigns in Arizona and California to ward off similar measures and, considering the economic straits of the livestock and poultry sectors at the moment, likely saw little need to throw scarce dollars at the issue. The agreement gives pork producers 10 years to phase out gestation stalls and allows stalls to be used for 7 days prior to farrowing (ie. giving birth), while the sow is nursing her litter and during breeding until sows are confirmed pregnant — usually 35 days or so past weaning. This last feature is critical in that it prevents fighting at a time when sows' are at their weakest, having just nursed a large litter of pigs. In addition, it reduces stress until embryos are safely implanted into the uterine wall and thus increases litter size. In short — the prescribed use of stalls allows producers to capture much of the productivity benefits of full-time stalls even if they use group housing systems for the remainder of gestation. The ballot initiatives in Florida, Arizona and California, legislation in Oregon and the negotiated settlement in Colorado all allowed this practice — an important one if productivity is to remain high and costs are to remain low.