CME: Overall Decline in Red Meat and Poultry Supplies
US - Steve Meyer and Len Steiner, in their Daily Livestock Report for 22 October, write that USDA yesterday released the results of its monthly cold storage survey.
The report was generally positive for the livestock and poultry complex as it showed continued declines in overall red meat and poultry supplies. Total beef, pork, chicken and turkey stocks were estimated at 2.218 billion pounds, - 6.1 per cent lower than a year ago but still + 1.7 per cent over the five year average. Below are some of the highlights from this report: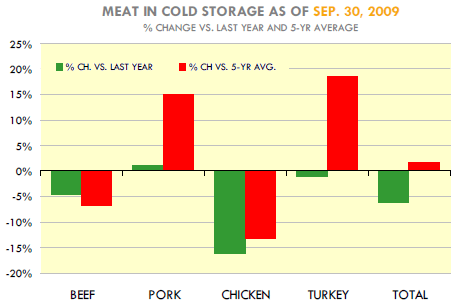 Pork: Total pork stocks as of 30 September were estimated at 531.9 million pounds, + 1.1 per cent higher than a year ago and still some + 14.9 per cent higher than the five year average. While overall supplies in cold storage are still high by historical standards, it was positive that stocks continued to move lower in September despite relatively large pork production levels. USDA monthly pork production data will become available on Friday but based on the weekly data, September pork output was up about 2 per cent compared to the record levels of a year ago. Despite the year over year increase in supplies, pork cold storage inventories did not increase from August levels. Seasonally pork inventories increase going into September, the five year average increase is about 28 million pounds. This year September pork inventories were up just 1.7 million pounds or 0.3 per cent from August. This implies good movement to domestic and export markets for the month and some pent up demand going into Q4. For details on individual items, please see page 2 of the link below.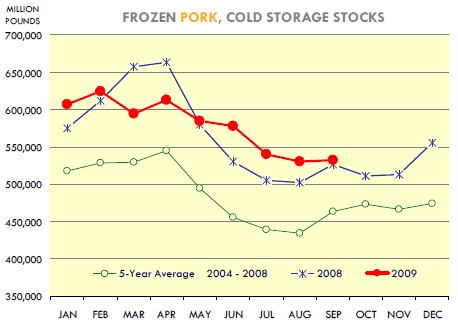 Beef: Total beef stocks at the end of September were reported to be 434.1 million pounds, - 4.5 per cent lower than a year ago and - 6.8 per cent lower than the five year average. End users are going into the holiday season with less inventory than usual, clearly a response to the much lower than expected cattle prices for Q4. We suspect that some inventory building programs that have been popular in the past have been curtailed or eliminated. Also, imported beef entries have slowed down. This has likely limited the amount of imported beef, which is mostly frozen, in storage. Stocks of beef cuts were 65.1 million pounds, 16.1 per cent lower than a year ago.

Total broiler inventories were estimated to be 636.7 million pounds, down 16 per cent compared to 2008 and - 13.4 per cent vs. the 2004-08 average. The reduction in chicken stocks should be positive not just for broiler prices but the entire meat complex.
Further Reading