CME: Red Meat and Poultry Supplies for 2010 Muddled
US - Much of the focus in the monthly USDA supply and demand report (released on Friday) was on the supply outlook for grain crops this fall, and for good reason, write Steve Meyer and Len Steiner.
A late maturing corn crop and poor weather have the market guessing as to the true output potential of the 2009 harvest season. Adding to the market's uneasiness is the prospect of an even weaker US currency and all that it implies about US grain exports and energy prices.

The picture for US red meat and poultry supplies going into 2010 remains just as muddled. The latest USDA forecasts point to continued reductions in beef and pork production. USDA lowered slightly its projections for US beef production in 2009 to 29.507 billion pounds, 2.8 per cent lower than 2008 levels. Forecasts are for 2010 US beef production to be down another 1.6 per cent, reflecting the smaller calf crop but also a slowdown in US cow slaughter rates.

As for pork, the latest projections peg 2009 output at 23.029 billion pounds, a slight increase compared to the September projection but still indicating a reduction of 1.4 per cent compared to a year ago. For 2010, USDA forecasts pork output to be 22.455 billion pounds, 2.5 per cent lower than in 2009 but still the third largest annual pork production on record.

Broiler supplies are down sharply this year, and at 35.230 billion pounds they are expected to be 3.5 per cent lower than in 2008. Forecasts are for broiler supplies to increase by 1.5 per cent in 2010 but that forecast will be greatly influenced by what happens with grain prices this fall and winter.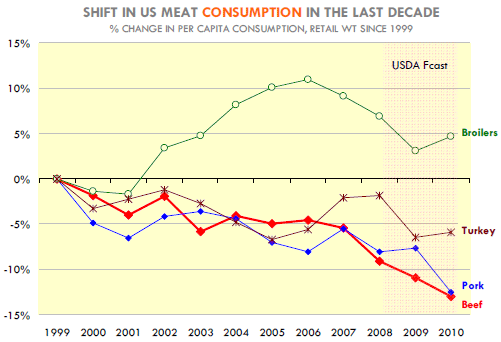 Lost in some of the year to year comparisons, however, is the broader context in which the US beef, pork and poultry markets operate. The reduction in US red meat supplies clearly will impact domestic per capita consumption of beef and pork products. The unfortunate fact is that per capita consumption did not decline simply because of the recession, although the recession accelerated the fall. Rather, US consumers have steadily reduced the amount of beef and pork they consume in the past decade. One could point to a number of culprits for this, from strong export markets, to higher producer costs, to food safety concerns, etc.

The fact of the matter is that US per capita beef consumption in 2010 is currently expected to be 60.1 pounds per person (retail weight), compared to 69.1 pounds in 1999, a decline of 13 per cent. Pork consumption in 2010 now forecast to be 47.1 pounds per person, 12 per cent lower than where it was back in 1999. The only meat protein that has shown some growth in per capita consumption is chicken, with per capita consumption in 2010 expected to be 81.7 pounds per person, 5 per cent higher than in 1999. With domestic consumption shrinking, exports will become increasingly important going into next year.