International Egg and Poultry Review: European Union
EU - By the USDA's Agricultural Marketing Service (AMS). This is a weekly report looking at international developments concerning the poultry industry. This week's report focuses on the European poultry situation.
The global financial crisis is expected to constrain growth in broiler meat production in the EU-27. EU poultry producers face high domestic costs of production due to higher feed and energy costs. A restriction on genetically engineered products, including a zero tolerance for unapproved varieties, affects the price of feed grains. Strict production methods, environmental restrictions and animal welfare measures add to the cost of production. The combinations of these factors result in significantly higher costs of production in the EU-27 compared to other world producers. EU decision makers are considering several mitigation strategies, such as an import policy requiring exporting countries to produce exports to Europe in conformity with European food production standards.

US poultry imports remain blocked, due to restrictions on Pathogen Reduction Treatments (PRTs) that are commonly used in the US and other countries. When the EU expanded to include Romania and Bulgaria the US lost a 100,000 MT market due to EU sanitary regulations and the ban on the use of PRTs in processing plants.

In April 2008 the European Food Safety Authority (EFSA) published an assessment concluding the four antimicrobial treatment substances used in the US do not represent a safety concern and proposed changes to EU regulations that would allow the importation and production of poultry meat processed using PRTs. However, the European parliament adopted a resolution calling on the Council to reject the Commission's proposal. In January 2009, the USTR requested that the World Trade Organization (WTO) undertake dispute settlement consultations with the EU on the PRT issue. As those consultations failed to resolve the dispute within 60 days, the US is now entitled to request that a WTO panel be established to determine whether the EU is acting consistently with its WTO obligations.

EU-27 chicken meat consumption is expected to slowly grow in 2009 and 2010 in spite of the economic slowdown because chicken meat is likely to replace more expensive red meat. Turkey meat consumption is expected to decline in 2009 and 2010 as consumers shift away from turkey to chicken, which is perceived as tastier and more convenient to use.

Imports of chicken meat continue to grow due to their lower prices. Brazil and Thailand are the largest suppliers, followed by Argentina and Chile. Brazil and Thailand have TRQs for salted poultry meat after a successful WTO case against the EU. The annual TRQ allocations for salted poultry meat (HS code 02109939) are 170,807 MT from Brazil; 92,610 MT from Thailand; and 828 MT from third countries with a bound rate of 15.4 per cent. An additional TRQ for preparations of chicken meat (HS code 16023219) at a customs duty of 8 per cent was created representing 79,447 MT annually from Brazil; 160,033 MT from Thailand; and 11,433 MT from other countries. The TRQs for salted poultry and preparations of chicken meat were both filled in 2008 and are expected to be filled in 2009, with the exception of Thailand, which has faced Avian Influenza import restrictions.

The EU is also looking at imports of processed poultry (HS code 16023230) which have roughly doubled yearly over the past six years, totaling 50,000 MT in 2008. The current ad valorem duty level is10.9 per cent, compared to a fixed duty of Euro102.4/100 kg net for out of quota imports of HS code 16023230. The in-quota tariff for HS code 16023219 is 8 per cent. By adding non-meat product to processed poultry to bring the poultry meat content below 57 per cent, exporters can extend low-duty poultry exports to the EU beyond the fixed quota level. It is being argued that this is a loophole inadvertently created in settling the "salted" poultry case and needs an urgent fix as imports under this line might reach 70,000 MT in 2009 if the import pattern observed in the first semester of 2009 continues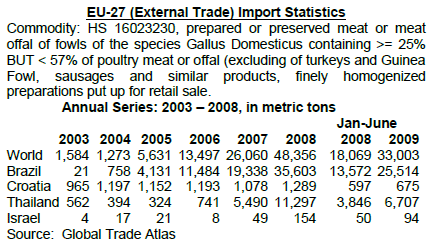 Exports face strong competition on the world market from Brazil, and the strong Euro is hurting trade. Primary destinations in 2009 are expected to be Russia (frozen cuts (legs) and MDM), Saudi Arabia (whole chicken), Ukraine and Benin (inexpensive cuts and MDM) and Vietnam is becoming an important market. EU-27 exports are expected to decrease slightly due to the partial ban by Russia on some EU poultry plants and the impact of global economic slowdown.

June 30, 2010 is the deadline before which EU Member States (MS) must implement Council Directive 2007/43/EC [1] of 28 June 2007. This directive lays down minimum rules for the protection of chickens kept for meat production and is usually referred to as the poultry welfare directive. As a general rule, this directive limits the stocking densities for poultry to 33 kg/m², although MS may still allow higher stocking densities under certain conditions. It is likely that, as a consequence of this new legislation, new labeling requirements for poultry imports will be adopted, as Article 5 of this directive specifically mentions that the EC will submit a proposal in this context before the end of 2009.

Source: USDA/FAS Attaché Report
Further Reading