Munsterhuis BV Targets Cross-Border Growth
NETHERLANDS - Specialist poultry hatchery, Broederij Munsterhuis BV, in Saasveld has expanded operations by more than 30 per cent, to one million day old chicks per week, with Smart hatchery technologies from Pas Reform.
The family-owned Dutch hatchery recently celebrated with an Open Day for customers, employees and suppliers.

"This expansion puts Munsterhuis well on its way to our target of 1.4 million chicks each week," said general manager Bert Munsterhuis, who at 39 is the third generation of his family to take the reins of the business.

Munsterhuis BV has installed SmartSet setters, SmartHatch hatchers and chick counting and candling/transfer equipment, all controlled and monitored by a SmartCenter Hatchery Information System.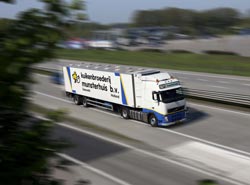 The new installation has fully automated the incubation process and all its controls in the hatchery. Multiple incubation programmes manage incubation for each of the various breeds simultaneously. Each supplier has a unique reference, enabling Munsterhuis to trace every hatching egg and manage the whole chain. Every group of day old chicks has a so-called chicken passport, which carries this data for full traceability, including information on the breeding company and the age and breed of the parent hen, for example.

The hatchery, which is situated close to the German border, anticipates growth in Germany, where Mr Munsterhuis says it is easier for broiler companies to expand. Sales are currently divided equally between the Netherlands and Germany (mainly North Rhine-Westphalia and Lower Saxony).

"Munsterhuis BV is a highly progressive hatchery, with an absolute focus on quality, traceability and the future," concludes Pas Reform Sales Director Michaël Kampschoër. "Smart has powerful data tools: it was developed for exactly this type of environment.

"We look forward to seeing Munsterhuis BV meet its 1.4 million day-old-chicks target right on schedule!"