International Award for Biolink
UK - Biolink Ltd has won The Best International Business award at a prestigious ceremony and dinner last month in Bridlington, East Yorkshire.
The annual event, The Chamber Bridlington & Wolds Business Awards 2009, is organised on behalf of Hull and Humber Chamber of Commerce to recognise the success of businesses based in the East Riding and Humberside region.

There are various categories of business achievement and Biolink Ltd was short listed along with three other top quality companies in the Best International Business category which is sponsored by UK Trade and Investment. The competition for the award was intense and the panel of judges selected Biolink Ltd as the winner.

The citation given by the judges is that Biolink Ltd is:
rapidly building a multi-country international business
incorporating a strong understanding of cultural issues and consequent customer needs, and
working closely with customers and suppliers.
Biolink Ltd, based in Market Weighton in Yorkshire, supplies farm hygiene products and disinfectants to the pig and poultry producers of the UK and into a growing number of overseas markets. In addition, Biolink provides advisory services and technical support to farmers here and in other countries to help them to prevent disease and to achieve high health status for the food producing animals in their care. The company is a market led business responding to the needs of customers; these needs are dynamic and forever changing as new disease challenges arise. Biolink is committed to continuous research and development to find new innovative products and ideas which are designed to promote good animal health and improve the profitability of customers businesses.

The growth in the export business over the last two years has been considerable with sales into markets in Europe, the Middle East and South East Asia.

Export Director, Richard Craw, commented: "Biolink has developed a number of new unique products, two of which have received independent industry awards for innovation. Our export business has grown at a significant rate and we have high expectations to become recognised as global participants in the biosecurity business.

"Having a range of good quality and efficacious products is important but I attribute our success to our people, who are all experienced agriculturalists and are able to provide comprehensive technical support and training to all our customers but most importantly end users who we recognise as being the most important people in the supply chain". Winning this award is vindication of our hard work and commitment to our customers abroad."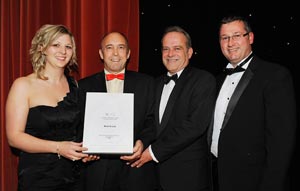 Award presentation: (left to right): Jo Stephenson (Export Administration Manager, Biolink Ltd); Stephan Stahl (International Trade Advisor, UK Trade & Investment; sponsors); Richard Craw (Export Director, Biolink Ltd); and Derek Gray (Sales Director, Biolink Ltd)