International Egg and Poultry Review: Turkey Production
GLOBAL - By the USDA's Agricultural Marketing Service (AMS). This is a weekly report looking at international developments concerning the poultry industry. This week's report focuses on global turkey and meat production and trade.
The US is the largest turkey meat producer in the world. US turkey meat production grew from 2.464 million metric tons (MT) in 2005 to an estimated 2.567 million MT in 2009 and are forecast to reach 2.607 million MT in 2010. In 2009, the US has 51 per cent of the world's turkey production and the EU-27 has 36 per cent.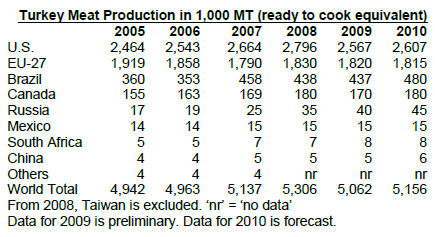 The US is also the top turkey meat consumer, followed by Canada, the EU-27, Mexico, Brazil and Russia.

The top turkey meat exporters are the US, Brazil, the EU-27 and Canada. In 2009, the US has a 44 per cent market share, while Brazil has 31 per cent. Brazil's market share has steadily increased and in 2010, Brazil's share is expect to reach 32 per cent.Total world exports are projected to fall 19 per cent in 2009. In 2008 the EU-27 became a net importer as imports outweighed imports.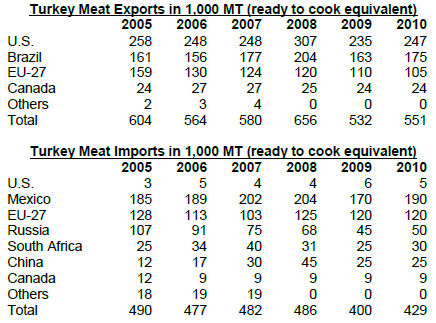 Source: Foreign Agricultural Service/USDA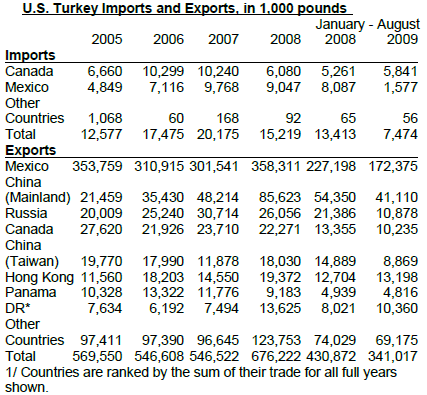 Source: ERS calculations using data from US Department of Commerce, Bureau of the Census. Date run: 10/9/2009 2:22:30 PM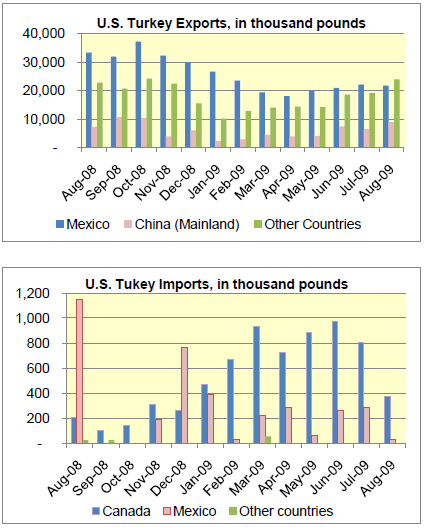 Source: ERS calculations using data from US Department of Commerce, Bureau of the Census. Date run: 10/9/2009 2:22:30 PM
Further Reading