Lohmann Tierzucht Celebrates 50th Anniversaries
GERMANY - For Lohmann Tierzucht, 2009 is a year of celebration: the company has marked the 50th anniversaries for both its layer breeding business and for its veterinary laboratory.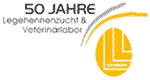 Fifty years of layer breeding means five decades of intensive research and breeding as well as close collaboration with our customers and partners, according to Lohmann Tierzucht. This close collaboration is the basis for the high breeding capacity and constantly increasing performance of Lohmann layers and parent stocks. This is also the essential foundation for the economic success of our customers.

The impressive results speak for themselves, says the company. The performance of the Lohmann layers has increased by 45 per cent in the last 50 years. Today, the company has a worldwide market share of almost 30 per cent. Lohmann Tierzucht has become a market leader with production plants in five different countries on three different continents.

"In the last 50 years, Lohmann Tierzucht has created the foundation to look expectantly ahead with our customers and partners in spite of the current financial crisis," said Professor Dr Rudolf Preisinger, Managing Director in the areas of Research and Production at Lohmann Tierzucht GmbH.

The Veterinary-Laboratory of Lohmann Tierzucht is also celebrating its 50 year existence this year. Its three departments – Veterinary Laboratory, Veterinary Services and Production of Flock-specific Vaccines – make it unique in its form worldwide. The inauguration of the new vaccine plant in Cuxhaven last autumn, has also created new benchmarks enabling Lohmann Tierzucht to expand its range of services to its customers.