Meyn Introduces New WLD Whole Leg Deboner
NETHERLANDS - The demand for deboned poultry products throughout the world has created an intensive and vast growing market.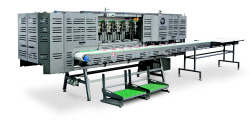 Meyn WLD Whole Leg Deboner
The eating habits of consumers have changed considerably over time, and a clear shift can be seen from whole chickens towards cut up and deboned products.

Deboned meat is also widely used as raw material for the increasingly popular convenience food products.

Deboned poultry meat therefore finds its way to an endless variety of end products, destined for markets all over the world.

In order to fulfill the increasing demands for high capacity leg deboning, Meyn now introduces the new WLD whole leg deboner.

The Meyn WLD semi-automatically processes left and right anatomical legs with or without skin at a capacity of 3,000 legs per hour.

All required manual activities are fast to learn, easy to execute and less stressful on the muscles and joints of the workers. This allows processors to obtain outstanding results in a short period of time and continuity is easily secured.

With the Meyn WLD the company says the processor is assured of:
a large flexibility as the system can handle left and right legs with or without skin simultaneously
unrivalled capacity in a compact operation
whole leg fillets of an outstanding quality and optimum yield, and
a system that is easy to adjust and maintain.
The Meyn says the WLD is the perfect solution for producing whole leg fillets of an outstanding quality and high yield.