Pfizer Trainee Awards for Pig and Poultry Industries
UK - Employees on pig and poultry farms in North Lincolnshire — Georgina Cherrill and Andrew Hall — are the 2009 winners of the Pfizer Trainee of the Year Awards.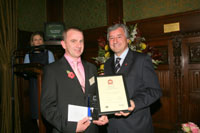 Andrew Hall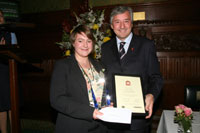 Georgina Cherrill
The awards, each worth more than £2500, were presented by Jim Fitzpatrick, Minister for Farming and the Environment. at a ceremony at the House of Commons on 5 November.

The current awards, now in their third year, were introduced by Pfizer Animal Health in conjunction with the journals Pig World and Poultry World, recognising the importance of training in helping UK producers to meet higher animal welfare and food safety standards in an increasingly competitive market.

Georgina Cherrill works on the Heath breeder unit of Ermine Farms, Grayingham, near Gainsborough, which supplies pigs for fresh pork production for Vion UK Ltd. She had no previous work experience with pigs when she joined them in September 2007 after gaining a National Diploma in animal management at Riseholme College. Through Agskills and other training, she has since achieved a Certificate of Competence at Level 2 and expects to gain Level 3 next year.

Her employers arranged a two-week work placement on a Danish farm in August to broaden her experience. She plans to use the award for management study to further her career — working towards achieving, in her own words, "the best welfare standards at all times to gain maximum output of British pork."

The judging panel — Richard Longthorp, the pig industry training supremo, industry consultant Gerry Brent and veterinary surgeon Dave Roberts of Pfizer Animal Health — said Georgina had embraced training to contribute more effectively to the unit where she works and to deal with specific problems, resulting in sustained improved performance. They added: "In addition, she was able to demonstrate the importance of good and well structured communication within a team of workers and how this contributes to more effective unit output."

The judges interviewed seven candidates. "All seven would have been outstanding ambassadors for their industry," said Mr Longthorp, chairman of the judges. "The high standards of entrants is a testament to the real inputs being made by many pig producers now to inform and enthuse their staff and to commit to assisting them in a successful career."

Andrew Hall, who was chosen as winner of the poultry award through votes of Poultry World readers, began working for PD Hook in their Gunness hatchery and was deployed on to a poultry breeding farm after a fire closed the hatchery for nine months. He preferred working on a farm — with previous experience on a pig unit — and after a period at the firm's Hatfield broiler breeder unit moved to another large 40,000-bird breeder unit at Susworth supplying eggs for the Gunness hatchery.

He completed an NVQ level 2 in livestock production in March and is seeking to further his qualifications in rearing breeders and broilers — potentially becoming one of the few experienced in all sectors of hatchery and poultry production.

Nathan Raines, academy manager of Norfolk-based training provider Poultec, describes Andrew as a person who grasps an opportunity with both hands. "He is an excellent example of someone who has the motivation and keenness to push himself to the next level and through training and development to learn the skills required to become a fully competent and important member of the team."

PD Hook is well aware of the need to present a better image for the career prospects in poultry. Area breeder manager Philip Rastall is involved in promoting its new poultry apprenticeships scheme for 16-year-olds who spend the first year on breeder rearing, production and broiler farms and in the hatchery, then in the next year choose the sector in which they'd like to work. "The scheme opens their eyes to the opportunities in the poultry industry today and we're working with schools to make them more aware of what the career offers," adds Mr Rastall.

The award comprises a £2000 training grant payable to the employer and a £500 cash prize for their winning trainee, together with engraved plaques.

Runners-up for the pig award are Roger Johnston who runs 160 sows and finishers, Ballygoney Pigs, with his father at East Moneymore, near Lough Neagh in Northern Ireland, and Richard Battersby who works on LSB Pigs 920-sow outdoor weaner at Pott Row, near King's Lynn, supplying pigs for BQP.

Runners-up for the poultry award are Tom Neal who works on a Cobb Europe breeding farm at Wretton, near Stoke Ferry, Norfolk, producing eggs for hatching grandparent stock for export across Europe and Africa, and Anthony Plaskitt of Billinghay Dales who turned to poultry after eight years in the Army and manages a broiler unit at Billinghay, near Sleaford, Lincolnshire for Moy Park.