Aviagen Announces Retirement of Ian Panton
US – After 40 years of service in the Primary Breeding industry, Ian S. Panton has announced his retirement from Aviagen, effective 31 December 2009.
Ian Panton started his career with Ross Breeders and until recently held the position of CEO of the Aviagen Group. In 2008, he assumed the role of Chairman of Aviagen Group Holding, a subsidiary of the EW Group.

Holding leadership roles at Ross Breeders since 1970, Mr Panton moved from Scotland to the United States in 1992 as president of Ross Breeders Inc.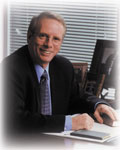 Ian Panton
In 1999, he led the integration of Ross, Arbor Acres, and LIR into the company known today as Aviagen, which is recognised as the world leader in poultry genetics.

Dirk Wesjohann said: "With his tremendous experience and his know-how, Ian played a vital role in Aviagen's success story. We are pleased that he has agreed to stay on with the EW GROUP as a non-executive director, acting as a consultant."

Aviagen is headed by Randall Ennis (CEO, Chicken Breeding), Chris Hill (CEO, Turkey Breeding and Group CFO) and Alfons Koerhuis (Head of R&D).