Aviagen Kft on the Road in Hungary
HUNGARY - Aviagen Kft has completed its second series of roadshows in Hungary as part of an ongoing seminar programme, designed to bring hands-on advice and support to customers in the region.
These roadshows have proven to be so popular with customers that the Aviagen Kft Team is already investigating how to run more in order to meet demand and cover different topics in new and interactive ways.

This time, presentations were made to two major Hungarian customers, Hungerit and Babolna Broiler, and covered topics such as genetic trends and broiler nutrition. The Aviagen team also discussed a number of topical technical and management issues, including biosecurity, broiler feed economics and salmonella legislation – what it entails and how to comply.

Peter Papocsi, Sales Manager, commented: "What really caught the audience's attention were the results of our comparative breeder trial from the Czech Republic. These clearly showed that in the field the Aviagen's balanced breeding programme has real benefits with both parents and broilers performing to the highest customer expectations.

"This theme continued in our genetic trends presentation, which demonstrated how all major production parameters of the Ross broiler have been constantly improving year on year. We have seen a sustained increase in body-weight gain and breast-meat yield, while feed conversion and mortality rates have been considerably improved in recent years. These improvements make our product the number one choice for most broiler growers."

Jonny Harrison, Regional Technical Director, said: "These are important topics in the region, with the salmonella legislation of particular relevance. Our specialists were able to reassure customers about the work they need to do and offer practical tips on how to comply with the legislation."

The event was completed with a discussion on the future of the industry in Hungary. Peter Papocsi felt that the industry is showing signs of stability and growth in Hungary is now possible.

He said: "The recent development in cereal prices, which have dropped significantly both locally and globally, shall give a boost to the broiler industry."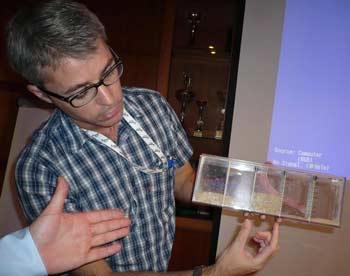 Leonardo Linaires demonstrates feed physical form