Cobb Germany Broiler Discussions in Czech Republic
CZECH REPUBLIC - The potential for saving feed costs – and at the same time improving profitability – with the Cobb 500 broiler was explained by Matthew Wilson, Cobb's global broiler specialist, during an Agrofert seminar in Prostejov, near Olomouc, Czech Republic.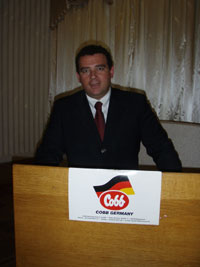 Matthew Wilson
"The best results with the Cobb 500 are achieved using a lower nutrient density feed bringing benefits to both growers and integrated producers," Mr Wilson told broiler farmers, meat producers and feed suppliers

James Truscott, director of Cobb Germany, and Lubor Skalka, market manager for the Czech Republic and Slovakia, were joined by Wimex broiler specialist, Hagen Müller, for the event analysing detailed management of the Cobb 500, the world's most popular broiler. It brought together specialists and growers with farms ranging from 100,000 to 650,000 broilers from the Czech Republic and Slovakia.

"This was a perfect time to exchange know-how on turning low value feed protein into high value meat — an advantage for the modern industry across Central Europe," said Mr Truscott.

Mr Skalka and Mr Müller, who spends a considerable amount of time consulting Czech broiler growers, agreed that the Cobb 500 is becoming more and more popular with them gaining from further improved welfare traits and lower production costs.