Happy Egg Awarded Most Successful New Brand
UK - The happy egg co., the free-range egg producer has been awarded 'most successful grocery brand launched in 2009' by mySupermarket Insights.
Since the launch earlier this year, the company has gained a strong 5.4 per cent of the supermarket eggs market and as such has taken second position as the largest egg brand in the UK.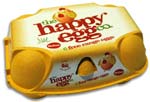 Revealed by mySupermarket Insights – the real-time grocery industry data web site – the happy egg co. came in above other new additions to the food and grocery industry including Innocent Tuscan Bean Stew and Levi Roots Reggae Reggae Jerk Barbeque Sauce. The report is designed to monitor which grocery brands have made the biggest impact on market share on an annual basis.

Rob Newell, Head of Marketing for the happy egg co. said: "It's a fantastic achievement to have received such a prestigious award so early on in the growth of the brand. At the happy egg co, we believe happy hens lay tasty eggs – it's the extra care we put in that ensures the eggs are the best you can buy."

the happy egg co. is committed to producing delicious eggs with rich, golden yolks laid by birds that enjoy everything that a normal healthy free-range hen requires for its freedom of expression and fullness of life. As well as plenty of green pasture to roam and forage, all Happy Egg farms are equipped with perching platforms and brashings to enhance the birds' natural surroundings.

Amir Konigsberg, VP Marketing and Business Development for mySupermarket added: "Many up and coming food and grocery brands have managed to make great strides in securing market share amongst supermarket shoppers over the past 12 months. These challenger brands have seen success despite launching in extremely difficult economic conditions."