International Egg and Poultry Review - Iraq
IRAQ - By the USDA's Agricultural Marketing Service (AMS). This is a weekly report looking at international developments concerning the poultry industry. This week's report focuses on the feed shortage in Iraq.
Drought conditions in 2008 and 2009 severely reduced Iraq's output of food and feed grain crops. The tight supply of feed wheat and barley has mostly affected the sheep sector. Feed wheat is also used extensively in the poultry sector.

Wheat production is currently estimated at 1.31 million metric tons (MT) for the 2009/10 season, 40 per cent lower than the average expected crop of 2.3 million metric tons. The wheat loss was mainly in northern Iraq, where the wheat produced is typically of low value and is used heavily as animal feed. Similar losses were noted during the 2008/09 season.

Barley production averaged 465,000 metric tons during 2008/09 and 2009/10, down 56 per cent from a pre-drought average of 1.08 metric tons. Feed corn production also declined in recent years due to drought-induced irrigation restrictions and reduced support for seeds and fertiliser. Feed corn production during 2006/07 and 2007/08 may have been as high as 350,000 metric tons. The corn harvest is underway but the Ministry of Agriculture estimates that less than 100,000 metric tons will be harvested this season. A conservative estimate is that domestic feed production has been roughly 1.8 million metric tons per year below pre-drought average.

Official Iraq Ministry of Agriculture animal census estimates have not been released in recent years. It is generally believed that the 2006 census estimates are inflated. Conservative estimates place livestock numbers about 15 to 30 per cent lower due to the successive droughts and the impact on animal feed. There is little evidence that feed grain imports increased substantially in response to this situation.
Animal Numbers In Iraq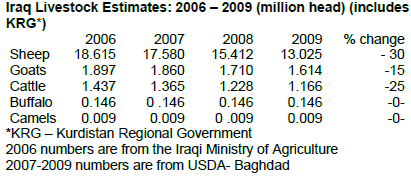 Feed prices to the poultry sector have likely seen a small increase this year as the result of lower international commodity prices and increased familiarity and availability of pelleted feed.

Source: Foreign Agricultural Service

The interior market prices for feed products in Iraq highlight the competitive disadvantage that Iraqi livestock and poultry producers face. Prices are well above what might be expected when transportation, handling and minimal border inspection fees and taxes (a 2.5 per cent 'tax' is assessed on imports) are included.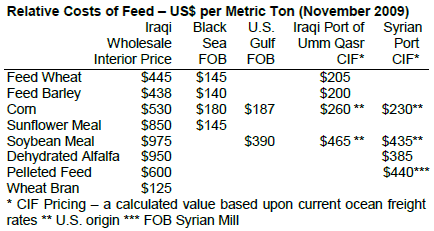 Discussion with truck drivers at border crossings with Jordan, Syria and Turkey suggest that the transportation cost for bagged product delivered to interior points within Iraq is in the range of $40 to $60 per MT. Handling and bagging, and inspection fees do not explain the $120 to $150 per MT hard cost that direct importers report paying to get feed products into the country. Iraqi wholesale prices most likely involve substantial mark-up, as feed products may change hands a number of times; prices also vary widely based upon availability and quality of the product. Syrian feed mills currently quote grower pelleted poultry feed at $425 per MT FOB. With inland freight, border taxes, and testing fees, the derived CIF price to an Iraqi end user is $480 per MT.

Most feed grains are imported privately by truck via Jordan, Syria and Turkey, which is clearly more costly and subject to significant delays. Truckers report that they charge an additional $50 per day for each day over five days. This can add significantly to the delivered cost, which traders build into their price quotations depending on expected border conditions.

Source: USDA Foreign Agricultural Service GAIN Report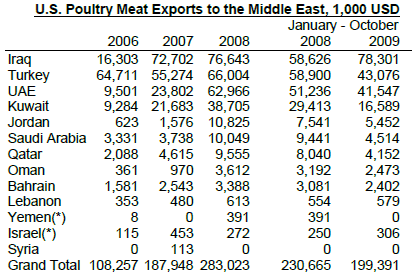 Data Source: Department of Commerce, US Census Bureau, Foreign Trade Statistics, Product Group: BICO-HS10 (*) denotes a country that is a summarization of its component countries.
Further Reading