International Egg and Poultry Review: US
US - By the USDA's Agricultural Marketing Service (AMS). This is a weekly report looking at international developments concerning the poultry industry. This week's report focuses on US exports of chicken paws.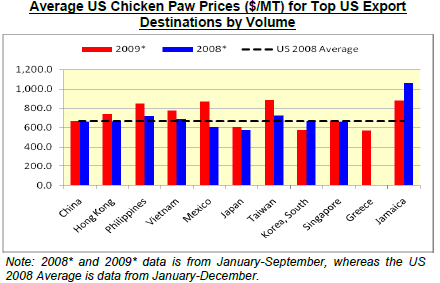 Based on data, total exports of US chicken paws (HS0207140045) declined 4.3 per cent in the first three quarters of 2009 versus 2008. The top four export destinations of US paws by volume in the first three quarters of 2009 continue to be to China, Hong Kong, Philippines and Viet Nam.

However, changes occurred from 2008 to 2009 as Mexico increased in rank from 6th to 5th, Japan 11th to 6th, Singapore 12th to 9th, and Greece 25th to 10th, whereas Taiwan dropped from 5th to 7th, South Korea 7th to 8th, Russia 8th to 18th, Georgia 9th to 19th, and Bosnia and Herzegovina 10th to 12th.

Exports of paws to China during the first three quarters of 2009 dropped 5.8 per cent in volume and 4.2 per cent in value from 2008 levels, but exports to Hong Kong rose 9.6 per cent and 22.7 per cent.

Investigations continue as the Chinese government filed an anti-dumping lawsuit against the US in retaliation for the US decision to impose higher duties on imported Chinese-made tyres and for previous trade barriers imposed on Chinese poultry imports. Another anti-dumping case exists between the two over Chinese steel pipe imports.

Source: Department of Commerce, US Census Bureau, Foreign Trade Statistics/Various News Wires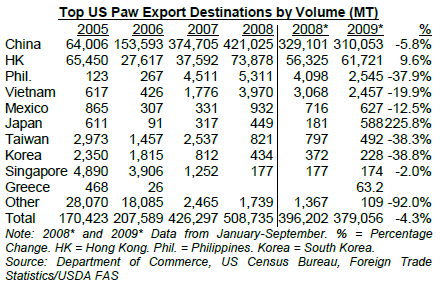 Percentage of US paw exports by volume to China, Hong Kong and all other destinations
Note: All data is January-December except for 2009*, which only includes exports from January-September.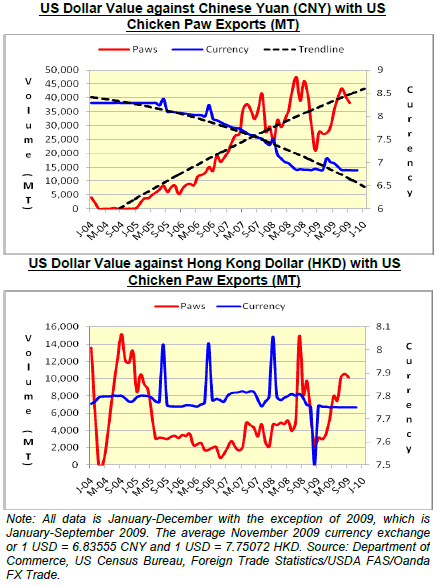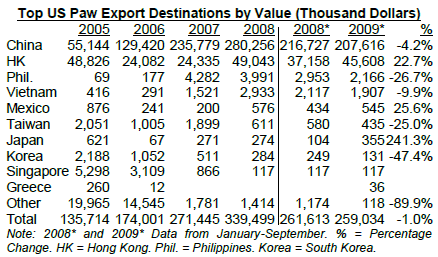 Source: Department of Commerce, US Census Bureau, Foreign Trade Statistics/USDA FAS
Further Reading