New Learning Centre Opens for 2 Sisters
UK - Poultry processor, 2 Sisters, has opened a new learning centre.
The Meat Training Council (MTC) has supported 2 Sisters Food Group in its commitment to develop a culture of continuous improvement and drive performance forward by donating equipment for its new state-of-the-art learning centre at Flixton.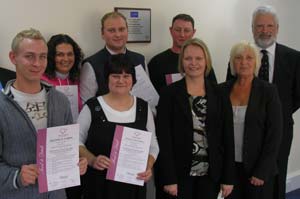 left to right: Food process operators, Branislav Fabini, Dijana Liepinaite, Edgaras Leipinaitis, Edweena Grimes, Rodney Rayner with their level two NVQ certificates, Angela Long (FDQ awarding body director), Mandy Stutter (NVQ assessor for Grimsby Institute) and Bill Jermey (chairman of MTC)
The new centre which was recently opened by Sir Stuart Rose, executive chairman of Marks and Spencer, offers a dedicated training area with light airy rooms, interactive facilities as well as private breakout rooms. 2 Sisters Flixton has already delivered 4,349 hours of training this year and the new facility will help the company reach its target of ensuring four out of every five workers hold a recognised qualification in productivity by the middle of next year, as well as allowing it to extend its business improvement techniques.

As one of the largest British-owned processors of chicken the company recognises the responsibility it has to help its employees develop their work and life skills. So far this year 135 employees have completed their NVQ level 2 in Food and Drink with a further 50 currently training and another 100 expected to start shortly. 2 Sisters' investment in training and development at Flixton has already produced tangible results – staff morale has improved, absenteeism reduced, staff turnover at the site has fallen below one per cent and there has also been an improvement in product quality.

MTC chairman, Bill Jermey said: "As an organisation committed to developing training and qualifications in the meat and poultry sector, we are proud to support 2 Sisters Food Group in their new learning facility. The meat industry is always competing with other sectors to recruit staff and retain them and training is a way to help motivate staff and encourage them to take pride in their work, as well as being an essential tool in improving productivity."

The official opening of the learning centre proved a memorial occasion for five food process operators who had the privilege of receiving their NVQ level two food manufacture certificates directly from Sir Stuart. The certificates were presented by FDQ, the awarding body for MTC.