Quality Matters in Saudi Arabia
SAUDI ARABIA - The recently concurrently held fairs, Saudi Agriculture 2009 and Saudi Agro-food 2009 proved a big success for Big Dutchman and its Saudi-Arabian agency, Al-Sahli Holding Co.
The event took in place in the Saudi-Arabian capital Riyadh. A whole four days the companies' representatives welcomed a steady flow of visitors at their booth. The wide range of state-of-the-art technology on display such as a true-to-life sample of the innovative broiler cage, Avimax, met with great interest among the regional and international poultry producers.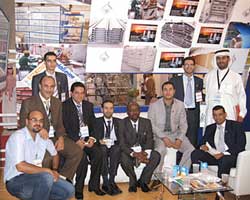 The faces behind the success: The Al Sahli team
"The positive reaction towards our products we experienced throughout the fair proves in particular one thing: Quality matters!" Big Dutchman sales manager, Khalid Abdelrahman, commented on the successful outcome of the event.

The broiler cage Avimax particularly attracted the visitors' attention. The main feature of the system is the patented easy-to-use pivoting floors that facilitate the moving-out process and allow for a low overall height of the installation while providing maximum headroom in the bird area. This makes for higher stocking densities, low building and energy costs and optimum air exchange.