Skylark Opts for Hubbard F15 Grandparent Stock
INDIA - Hubbard is very pleased to announce that Skylark Hatcheries has decided to move to Grand Parent stock level by the beginning of 2010.
Based on its very good performance in the field, Skylark will use the Hubbard F15 Grand Parents for this new operation.

Jagbir Singh, managing director of Skylark Hatcheries Pvt. Ltd., was among the first to see the potential of the Hubbard F15 for the Indian market when the first parent stock flocks arrived in 2003. During a recent meeting of the North Zone Broiler Breeders Association in India, Mr Singh explained how the Hubbard F15 contributes to the efficiency and profitability of his company.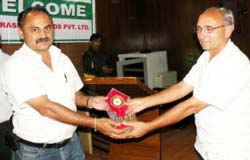 Jagbir Singh (right), Managing Director of Skylark Group, awards Kapil Manwal (left), Technical manager of Hubbard, for his excellent contribution to the North Zone Broiler Breeders Association meeting in India in September 2009
The Hubbard F15 breeder female is a 'mini-type' breeder and is well recognised for its feed-saving characteristic: it can save up to 120 grams of breeder feed per chick (or 14.5 kg of feed per breeder female). With the ongoing increases in feed costs in India, this is a key factor in the profitability of a breeder operation.

A recent economic analysis for the Indian market shows that the Hubbard F15 breeder can save about 1.60 rupees (INR) per chick against the cost of a chick produced by a standard breeder. This equates to INR 2.24 million (US$48,500) for every 10,000 breeder females placed. This figure, together with the good balance in breeder and broiler performance, explains why the response from the Indian market has been so good. Since the launch of the Hubbard F15 about six years ago, many poultry companies around the world have started to use it with great success.