CME: US/Russian Poultry Trade Talks; Pork Prices
US - Bilateral trade poultry meat talks with Russia reached an impasse, and pork prices are rising, write Steve Meyer and Len Steiner in their Daily Livestock Report (DLR).
No resolution in US/Russian poultry trade talks
US broiler products continue to be shut out of the Russian market. News reports indicate that discussions held this week between USDA and Russian officials have so far yielded no resolution to the impasse.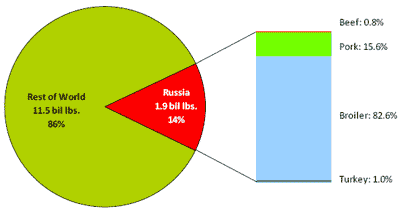 Russia share of US beef, pork and poultry exports in 2009
Based on carcass weight volume, January-November actual & December forecast; USDA and Steiner
Reuters quoted the undersecretary of Agriculture Jim Miller as saying that "Both sides agreed that the work and discussions will continue in the coming weeks with the goal of resolution". In other words, no speedy solution and likely an even more pronounced negative impact on chicken, and to a lesser extent, pork and beef markets. Russia accounted for about 14 per cent of the overall exports of beef, pork and poultry in 2009.

CME currently estimates total meat exports to Russia in 2009 at 1.9 billion pounds, with chicken making up about 83 per cent of that total.

The Russian market is particularly important for the US broiler industry as it accounts for almost 24 per cent of all chicken exports.

So far, prices for chicken leg quarters are holding up relatively well but we could see prices drifting lower the longer this situation continues. One factor that should be helpful to broiler producers is that overall supplies are not especially excessive and better demand from surrounding countries should help offset the Russian ban. It is hard to conceive that the current ban will stay in place for a long time. For the moment, it will likely help Russian traders clean up some of their old stocks and then gear up for a new round of buying, preferably in a somewhat softer market.
Pork prices
Pork prices continued to move higher on Wednesday as spot wholesale supplies remain especially tight.

As usual, the USDA Carlot report is of limited use given that many items continue to go unquoted. It is a stark contrast to what is happening in the beef complex which has been significantly more transparent since the mandatory reporting was put in place. The latest USDA report put the pork cutout at $78.63/cwt, $2.44/cwt higher than the previous close and a little over $6 higher than the previous week. Cutout values have been steadily increasing since the beginning of the year on very firm prices for pork trimmings, hams, and more recently loins. Hog slaughter in the first three days of the week is running about one per cent higher than a year ago but hog supplies since the beginning of the year have been notably lower than previously expected, a result of both lower slaughter and lighter animals coming to market. The CME lean hog carcass futures closed lower on Wednesday but the market will likely be buoyed by the steady gains in cutout values. As hog futures are approaching contract highs, the market has clearly become much more cautious.

Those that hold a more bearish view of the market think that it is due for a correction but no break will come as long as the wholesale market remains on fire.
Further Reading