Cobb Appoints New VP of R&D and Chief Scientific Officer
US - Cobb-Vantress has announced two new appointments - one for vice-president of R&D, and the other for chief scientific officer.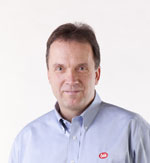 Dr Mitchell Abrahamsen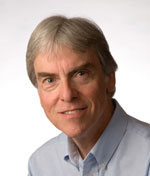 Dr John Hardiman
Dr Mitchell Abrahamsen has been appointed vice president, research and development for Cobb-Vantress. He will lead the company's research and development effort and strategic programs for bringing innovation and new technologies to the poultry industry.

Dr John Hardiman, who has held this role for the past 24 years, moves into a new position as chief scientific officer where he will be a senior advisor to the company's executives on science and technology initiatives covering short and long term objectives. He will play an integral role in recommending scientific priorities for research, and participate in generating future Cobb products. John will also interface with the international scientific community and to industry organisations.

"Mitch brings a wealth of experience harnessing the potential that technology has to offer industry," says Jerry Moye, president of Cobb-Vantress. "We welcome him and look forward to his leadership in R&D and his contribution to our future business performance.

"John has been deeply involved in the major projects which have established our company as a leader in the poultry industry. His contribution has been invaluable to Cobb, and we look to him as chief scientific officer continuing to help guide the company's future direction."

Dr Abrahamsen has an extensive background in research and development, project design, management and implementation of state-of-the-art innovation programs within the animal health and production industry. Much of his 18 years' experience in academic, governmental and biotechnology environments has involved developing integrated, cross-functional research programs that utilize large-scale, high-throughput genomic and genetic technologies to develop new products and tools for improving animal health.

Commercialisation as a result of these programs has been supported by in-depth field studies and information packages demonstrating product performance and support product claims. Throughout his career he has worked with many diverse interests and partner organisations to establish intellectual property and technology solutions for product development and commercialisation.

Dr Abrahamsen earned his BSc degree in biochemistry at the University of Minnesota and his PhD degree in biochemistry at the University of Washington, Seattle. He has held faculty positions at Montana State University and in the College of Veterinary Medicine at the University of Minnesota where he was a recognised international authority on animal genomics, animal health and molecular basis of host/pathogen interactions. He has served on advisory boards for numerous private and government funding agencies including the National Institutes of Health, the United States Department of Agriculture and Genome Prairie.

Over the last 10 years, Mitch has worked for Hills Pet Nutrition as vice president research and as chief scientific officer/vice president - research and development for Pyxis Genomics. In these roles he was responsible for developing corporate research strategies that supported global business goals and managed research programs dedicated to driving business growth through new technology development and scientific evidence that demonstrated performance and product claims.

John Hardiman managed Cobb R&D and guided all phases of the Cobb500 development from acquisition and importation of the pedigree lines to creating the single most successful product in the global broiler industry. He led Cobb's research efforts associated with the change from a single product to a multiple product strategy, including the development of Cobb700, the CobbAvian48 and Cobb male products. John was responsible for overseeing a selection program delivering breast meat yield and feed conversion advantages widely recognized by the industry, introducing individual bird feed utilization and the transition to computers in the Cobb breeding program.

He supervised the early planning, construction and expansion of the pedigree farms which now form the company's US nucleus, also the import farm and product testing facility that enabled potential product lines to enter the US. The company's external research program, through the Research Advisory Committee led by John, has backed initiatives in technical service, health, nutrition and genetic research providing support for a growing field force and expanding markets around the world.

In 2000, he was involved in acquiring Avian Breeding Company's product lines and conversion of the facilities at Strawberry Hill, Kentucky to accommodate both Avian and Cobb pedigree birds. Around this time, research in biotechnology began within Cobb focusing on gene marker technology and assessing potential benefits in selection accuracy. The biotechnology group formed in 2003 now has a growing role in the company.

John was instrumental in creating the Joint Research Committee with Hendrix Genetics in 2007, before acquiring their product lines and facilities in the Netherlands in January 2008. This collaboration continues developing resources and sharing research to improve the analysis and genetic performance in multiple species today.