International Egg and Poultry Review: Canada
CANADA - By the USDA's Agricultural Marketing Service (AMS). This is a weekly report looking at international developments concerning the poultry industry. This week's report focuses on Canada's supply management system for shell eggs.
Supply management is a marketing system where producers control the production (supply) of a commodity. The purpose is to ensure domestic demand is met while ensuring a reasonable return for producers and stable prices for consumers. The three pillars of supply management are: domestic production quotas, import controls and price setting.

Canada developed a national supply management system for certain commodities with the Farm Products Marketing Agencies Act of 1972. The act founded the National Farm Products Council (NFPC) and provided the legal foundation for national marketing agencies. Legislation already existed to allow the federal government to delegate authority over inter-provincial and export trade to provincial commodity boards. Five agricultural commodities are supply-managed: eggs, milk, turkey, chicken and broiler hatching eggs.

The national agencies establish and allocate production quotas, which specify the volume of product that can be produced by specific producers within a specified period of time. Levies are then paid by producers to support the administrative and marketing operations. The agencies also regulate the marketing of farm products between provinces and in export trade.

Egg producers were the first to establish an agency and the Canadian Egg Marketing Agency (CEMA) was founded in 1972. In 2008, CEMA changed their name to Egg Farmers of Canada (EFC). EFC establishes an annual national requirement for eggs, which is then shared among the provinces. Production quotas are issued to individual producers after accounting for the numbers of small producers who grow eggs without quotas. Prices paid to producers are tied to production costs.

Shell egg producers sell their eggs to grading stations but when there is a surplus, the excess eggs are sold to the provincial or territorial commodity boards. EFC buys these eggs which are then sold to egg processers to produce egg products. EFC sells eggs to processors based on US processor prices. It uses levies to make up the difference between this price and the price it pays to provincial boards.

The Export and Import Controls Bureau of the Department of Foreign Affairs and International Trade is responsible to administer the Export and Import Permits Act (EIPA), which gives the authority to the Governor in Council to regulate the import and export of designated products. Under EIPA the Governor in Council may establish the Import Control List (ICL). Permits are required for imports of agricultural products under the ICL. The Canada–US Free Trade Agreement (FTA) was signed in 1988, implemented in 1989, and required all tariffs to be phased out over a ten-year period. An exception was allowed for certain commodities such as Canadian dairy and poultry imports.

In 1994, the FTA was expanded to include Mexico to create the North America Free Trade Agreement (NAFTA). Agriculture was the only section of the agreement that was not negotiated trilaterally. Three separate agreements were signed for agriculture, including two bilateral agreements that Canada negotiated to preserve border controls for its supply-managed commodities.
Source: Agriculture and Agri-Food Canada; Canadian Egg Marketing Agency/Egg Farmers of Canada; Farm Products Council of Canada

Sources: USDA/AMS Poultry Market News and Analysis; International Trade Canada/Export and Import Permits Bureau;
Poultry and Egg Statistics
, 2009, vol. 6 no. 3; USDA AMS Poultry Market News and Analysis
The graph above illustrates the variability in US egg prices compared to Canada. Canada's national supply management system ensures egg prices are not susceptible to the variability in prices that the US undergoes. Canada's shell egg prices are very stabile through the control of domestic production quotas, import controls and prices.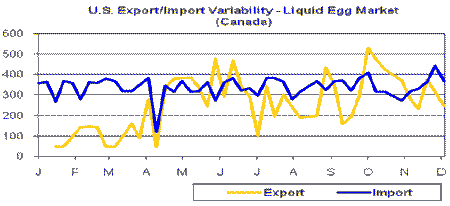 Source: Agriculture and Agri-Food Canada, AISD, AID, poultry Section; Exports in thousands of tons
In 2009, US liquid egg exports to Canada totaled 12,267,000 pounds to 19 December. US liquid egg imports from Canada totalled 17,114,000 pounds for the same period.
Further Reading