New Cobb Agreement in Kazakhstan Market
KAZAKHSTAN - A new agency agreement with IG Belco will extend the availability of Cobb broiler breeding stock in the Republic of Kazakhstan.
Wout van Wolfswinkel, parent stock sales manager of Cobb Europe, who signed the agreement with Geert Horemans of IG Belco, sees the move as opening up new opportunities for the breed in a market where Cobb and also Hybro have had customers in the past.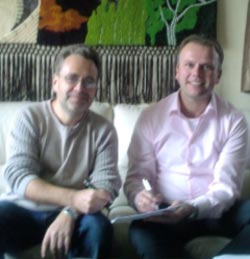 Wout van Wolfswinkel (right) from Cobb Europe signing the new agency contract agreement for Kazakhstan with Geert Horemans from IG Belco
"The Kazakhstan market is not large, accounting for some 850,000 parent stock a year, but the country does import a substantial amount of poultry meat – around 90,000 tonnes a year – and is seeking to expand production," says Mr van Wolfswinkel. "We are delighted to have IG Belco as our new partner in this developing market."

IG Belco, which is a sales company for feed premixes and vitamins blends, has a local office in Almaty. The company has been active in the market for 20 years and is well known throughout the poultry industry. Another part of the business is selling medicines.

The government of Kazakhstan is stimulating the agricultural business with the income generated from oil and gas supply.