Customers Drive Sustainability in Animal Agriculture
US - Poultry and red meat companies are developing sustainability programmes, not because of government mandates but because of customer requests.
C. Larry Pope, president and CEO, Smithfield Foods Inc, told the audience at the Animal Agriculture Sustainability Summit that a presentation to customers used to consist of a discussion of price, product quality and delivery schedules.

Now, Mr Pope said that before any of these things are discussed, customers want to know about all aspects of sustainability. The Sustainability Summit was held during the 2010 International Poultry Expo/International Feed Expo, sponsored by US Poultry & Egg Association and the American Feed Industry Association.

Sustainability at Smithfield is not just about environmental programmes, according to Mr Pope. It also includes animal welfare, antibiotic and drug usage policies, product traceability, worker safety, immigration policy, relationships with employee unions, food safety systems and even financial stability of the company. These items have become hot button issues for buyers for both foodservice outlets and grocery chains; they do not want a vendor's public relations problems to taint their brand. "Customers demand all of these things now because of demands from consumers," Mr Pope said.

Smithfield has not always had a stellar environmental record, Pope reported. He said that around 10 years ago, Smithfield was forced to pay a $12.5 million fine because of Clean Water Act violations that resulted from a lawsuit brought by a private individual. The plaintiff in the suit was Dennis Treacy, who was subsequently hired to head up Smithfield's environmental programmes.

Mr Pope said that Smithfield needs to go beyond compliance in all areas. "There is no insurance for a product recall or environmental impact," he said. "You need to have 100 per cent compliance 100 per cent of the time."

He said that the animal agriculture industry, both processors and farmers, need to listen to and engage the people and groups who are attacking them. He said that it is important to talk with these individuals and groups to show them the industry's side of the story. "We need to educate all of the groups that challenge our practices," he said.

The public at large has developed some misconceptions about animal agriculture practices. To combat this, Mr Pope challenges everyone in the animal agriculture industry to make two visits to a community group or school to educate the public on industry practices and to dispel the myths about industry practices that exist now.
Expect little help from Washington
"Hyper command and control mode is coming back at EPA," said Christian Richter, The Policy Group Inc, also speaking on the Sustainability Summit programme. The current administration is shifting personnel from cooperative voluntary programmes to enforcement programmes, she explained.

This shift to increased enforcement runs counter to the collaborative approach espoused by Suzy Freidman, of the Environmental Defense Fund, another Sustainability Summit speaker. She said that the animal agriculture industry should look for ways to collaborate with groups that can come to the table and make a difference. Collaboration can lead to solutions that are both economical and yield environmental improvements, she added.

The Environmental Sustainability Summit is part of a comprehensive series of industry education sessions complementing the huge exhibit floor at the Expo. The annual event features the latest technology, equipment, and services used in the production and processing of poultry, egg and feed products.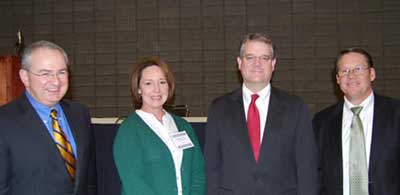 Sustainability Summit industry keynote speaker Larry Pope (right), CEO of Smithfield Foods, met with session moderators (from left): Kevin Igli (Tyson Foods), Brenda Flick (Sanderson Farms) and Dennis Treacy (Smithfield Foods)