Hagland's Latest Successful Season
UK - Peter Hagland has another amazing season with Orego-Stim Pigeon Liquid.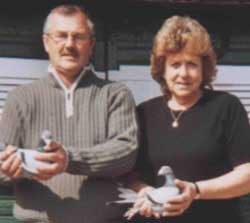 Peter and Cynthia Hagland
Peter has been using Orego-Stim Pigeon Liquid for over four years now and says: "I swear by Orego-Stim to be honest. I'd seen it advertised so when I went for my corn one day, I thought I'd give it go and I've been using it ever since."

Orego-Stim will be available from Clare's Pet Products, B. Leefe & Sons and P.J. Lofts at the Blackpool Show 2010.

For more information, please visit our web site [click here].
Peter Hagland's results for the season
Fougeres Old Hens National
1st Section K
1st Open
1,226 birds
Fougeres Young Bird National
1st Section K
3rd Open
5,231 birds
Falaise Yearling Race
4th NE Section
5th Open
264 birds
12th NE Section
20th Open
264 birds
Tours
10th NE Section
161st Open
3,475 birds
15th NE Section
221st Open
3,475 birds
Lessay Yearling Race
12th NE Section
17th Open
1,101 birds
Falaise
14th NE Section
37th Open
3,720 birds
25th NE Section
57th Open
3,720 birds