International Egg and Poultry Report: Turkey
TURKEY - This is a weekly report by the USDA's Agricultural Marketing Service (AMS), looking at international developments concerning the poultry industry. This week's report covers the poultry industry in Turkey.
Turkey has a modern chicken industry with about 80 per cent of chicken production in fully integrated facilities where HACCP (Hazard Analysis and Critical Control Point) and GMP (Good Manufacturing Practices) are practiced. The Turkish poultry industry has grown enormously and in 2009 broiler meat production was estimated to reach 1.25 million metric tons (MMT), up almost 17 per cent from a year earlier when production totalled 1.07 MMT. In 2010, broiler production is forecast to reach 1.3 MMT. Turkish poultry production capacity is 1.5 MMT/year. Commercial egg production was 10.5 billion eggs in 2007, 11.5 billion in 2008 and 12.0 billion in 2009. In 2007, egg production in Turkey ranked 10th in the world by value, 11th by volume.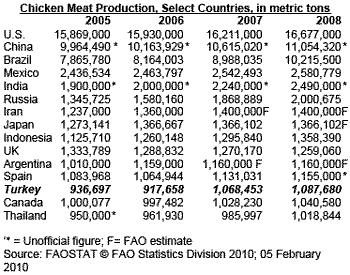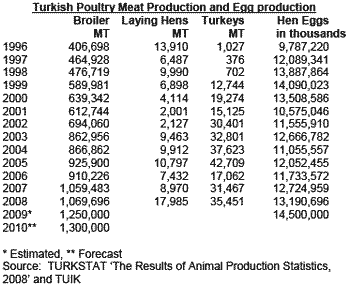 Poultry feed costs represent 70 per cent of total production costs. Most feed is imported, leading to higher production costs that make Turkey less competitive. In CY 2008, Turkey imported 4.96 MMT of feed ingredients, including 1.23 MMT soybean, 530,971 MT corn gluten feed, 521,855 MT dried distillers grains with solubles (DDGS) and 359,000 MT of soybean meal. On 26 October 2009, the Ministry of Agriculture and Rural Affairs published a regulation covering biotechnology in food and feed. The regulation prohibited the importation of all genetically modified (GM) products. This will lead to even higher feed costs.

In 2009, Turkey's poultry exports rose 44 per cent over 2008, mostly due to increased exports to Iraq, which is now Turkey's largest export market for poultry. In 2009, Turkey also resumed exports of poultry to China, which had been banned in 2008 due to avian influenza worries. At the same time, exports of chicken meat to Azerbaijan fell almost 50 per cent.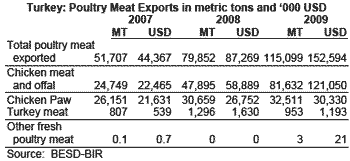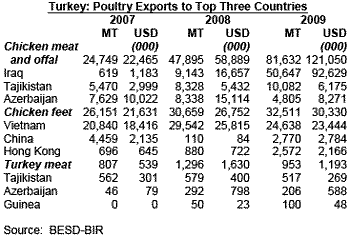 Turkey gained access to the EU market in March 2009 when SANCO (the EU's Directorate General for Health and Consumers) published a list of Turkish companies whose products could be imported into the EU and the relevant health certificate on its web page. The seven companies listed have a 70 per cent market share in Turkey and they are approved to export poultry products processed at more than 70°C. Turkey started exporting in August 2009 but total exports to the EU only reached 60 MT.

The Russian Veterinary and Plant Quarantine Service (FVBKS) inspected Turkish poultry establishments in August and September 2009. Six plants were approved as eligible to export to Russia. Turkish Prime Minister Erdogan visited Russia on 12 to 13 January 2010 and during this visit, Russian authorities declared Russia was interested in importing up to 500,000 MT of poultry meat from Turkey. Turkish producers estimate that Turkey could supply Russia with no more than 55,000 MT of chicken meat annually.
Source: USDA FAS GAIN Report; EU Directorate-General for Health and Consumers; TURKSTAT; news wires
Further Reading