International Egg and Poultry Review: Global
GLOBAL - This is a weekly report by the USDA's Agricultural Marketing Service (AMS), looking at international developments concerning the poultry industry. This week's report covers global poultry meat trade projections to 2019.
The USDA World Agricultural Outlook Board released its USDA Agricultural Projections to 2019 on 11 February 2010. The projections in this report were prepared during October through December 2009, reflecting a composite of model results and judgment-based analyses and do not include any short-term effects of Russia's recently announced quotas and sanitary requirements for imports of meat, which occurred after the projections were complete. However, the projections assume a continued tightening of import quotas in Russia, as that country builds toward self sufficiency in its meat sector.

Developing countries are projected to be the main source of growth in world demand and trade from 2008 through 2019. Demand is further reinforced by population growth rates that are nearly twice those of developed countries. Countries in Africa and the Middle East would account for 60 per cent of the growth in poultry meat imports and more than 10 per cent in beef imports.

Poultry meat imports by major importers did not decline during the global recession and are projected to increase by about 1.5 million tons (25 per cent) between 2010 and 2019. The exceptions to this are the Former Soviet Union (FSU), Europe and Japan.

Russia will remain a major poultry importer, even with a sharp drop in imports. Russia's policies that make the poultry TRQ regime more restrictive will restrain poultry imports and simulate domestic poultry production. Slower growth in income and per capita poultry consumption in Russia will further reduce the need for imports. The EU-27 will continue to be a net importer, but the difference between the volume of imports and the volume of exports will increase as the EU's exports decline and imports increase. Japan's imports will remain flat, growing less than 1 per cent over the period.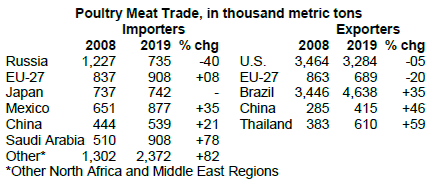 Rising consumer incomes should increase poultry demand and imports in Mexico and in the Central American and Caribbean region. Poultry products will remain less expensive than beef or pork, further stimulating demand. Mexico's domestic poultry production continues to increase during the projection period, but rises at a slower rate than consumption.

Poultry imports by Egypt, Saudi Arabia and other countries in the North Africa and Middle East region now account for 25 per cent of major-trader imports and are projected to account for more than half of the increase in imports between 2008 and 2019 as income and population growth boosts demand. Ongoing animal disease concerns in a number of countries are expected to slow growth in domestic production and to increase demand for imports.

Because of avian influenza, some major poultry-exporting countries such as Thailand and China have shifted most of their exports to fully cooked products and are projected to continue to do so. Because of their higher production costs, these cooked products will be marketed to developed or high-income countries in Asia, Europe and the Middle East. China's rising consumption of poultry meat will be met by expanding domestic production; poultry imports and exports will each grow by about 15,000 tons.

Source: USDA Agricultural Projections to 2019, World Agricultural Outlook Board http://www.ers.usda.gov/Publications/OCE101/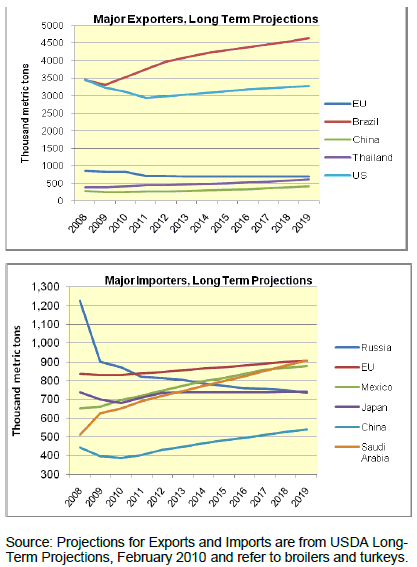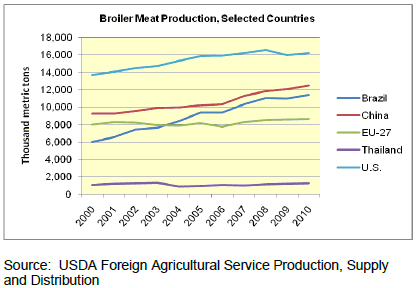 Further Reading