International Visitors Insight into Latest Cobb Research
US - Leading poultry producers from Europe, Asia and Central and South America were given an insight into latest research of Cobb-Vantress during a visit to Arkansas following the IPE poultry exhibition at Atlanta.
They included customers from P.D. Hook in the UK, the Cherkisovo group from Pensa in Russia, Senpilic and Keskinoglu in Turkey, Charoen Pokphand in Thailand, Cobb Caribe in the Dominican Republic, Pipasa in Costa Rica, Puropollo in Colombia and Avex in Peru.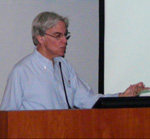 Dr John Hardiman speaking to the international visitors during their visit to the Siloam Springs
During a visit to the Cobb world headquarters at Siloam Springs, Arkansas, they heard about the increasing scope of the company's breeding programme from Dr John Hardiman, who has led the research and development team for the past 24 years.

Now the company's chief scientific officer, he told the group about how lowering the cost of genotyping individual birds would increase the pace of future progress. He spoke about how programme was 'locking in the Cobb trade mark advantages in feed conversion and growth across all products', with a further 15 points on feed conversion expected in the next five years.

The Arkansas visit also took in some facilities of Tyson Foods including the Tyson Discovery Center, the world-renowned research kitchen where new products are developed.

The visitors pictured in front of the Cobb-Vantress headquarters at Siloam Springs

The European visitors pictured during a visit to Washington before travelling to the Cobb-Vantress headquarters in Arkansas