Net Energy: New Hot Topic
AUSTRALIA - Poultry CRC CEO, Professor Mingan Choct says that net energy was a hot topic at poultry science symposium.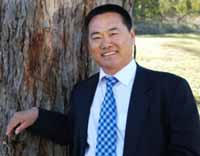 Poultry CRC CEO, Professor Mingan Choct
In the latest issue of eChook from Poultry Hub, Professor Mingan Choct writes:

The call for Full Research Proposals went out just before the end of last year, and the February 26 deadline is rapidly approaching. Once we receive all submissions, our Science, End-User Advisory and Executive Committees will assess each proposal before giving their recommendations to the new Governing Board. In the interim, we appreciate your patience if you are involved in any of the proposals.

The development of the new CRC's education activities is progressing well, with the search for an Education Officer to begin shortly. This role will support the Education Coordinator, Dr Tim Walker, who brings a wealth of industry experience to the new CRC.

Over the Christmas/New Year break, our friends at Tocal College announced the publication of a new Free Range Poultry AgGuide, which was produced in collaboration with, and funding support from, the Poultry CRC. This timely resource is bound to prove popular with the growing number of free range producers and backyard enthusiasts.

Recently, I attended the Australian Poultry Science Symposium (APSS) in Sydney. I thought that this year's symposium was one of the best I've attended over the past 21 years. One of the hot topics was net energy, with Professor Jean Noblet from INRA, France, Dr Jan Dirk van der Klis from Schothorst Feed Research, The Netherlands, and Professor Rob Gous from the University of KwaZulu-Natal in South Africa presenting their views and experiences on net energy. I was also fortunate to have Dr Jean Noblet visiting the CRC headquarters in Armidale, sharing his vast experience in net energy with me.