Top US Award for Cleveland Hatchery
US - The Cleveland hatchery in Georgia has won the 2009 Cobb-Vantress 'Hatchery of the Year' award, recognition of major improvements over the past three years.
In presenting the award to Cleveland hatchery manager Scott Taylor, director of Cobb Hatcheries Ben Green, stated: "For the past six years, Cobb has presented an award to the hatchery that stands out above the others in overall performance. This year I'm proud to present the award to our Cleveland hatchery.

Mr Taylor responded: "I couldn't have done it myself. When you have a great team, and everyone does their job, good things happen. We have modified many things around the hatchery, and keyed in on safety, biosecurity and animal welfare."

During the past year, the hatchery also celebrated 12 months with no lost time accidents.

Contributing to their success is the improved low employee turnover. The number has gone from over 100 per cent in 2007 to fewer than 33 per cent over the last year.

Mr Taylor explained: "Training and experience speaks volumes in the hatchery and we have seen quality, grading, and mortality improve over time.

The Hatchery of the Year award was given before the 'State of Cobb' presentation by Cobb president Jerry Moye for all Cobb facilities, summarising the company's business year.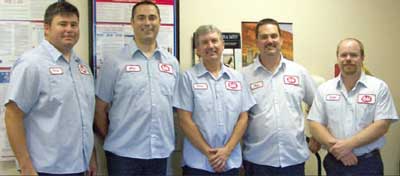 Cleveland Hatchery personnel (left to right): Chris Sherron (safety manager), Aldo Rossi (GM North America), Dennis Padgett (Director HR), Ben Green (director of hatcheries) and Scott Taylor (hatchery manager) Cleveland Hatchery.