Aviagen Hosts Japanese Delegation on Tour
US - Aviagen, Inc. recently hosted 16 members of the Japan Chunky Association (JCA) on a tour of North American broiler farms and processing plants in the US and Canada.
The tour provided the JCA – an organisation founded approximately 40 years ago and made up of representatives of the poultry industry in Japan – with the opportunity to study management techniques and practices at the parent stock and broiler level in North America. The visits to some of the Aviagen customer facilities in the US and Canada provided an opportunity for the group to see some of the successful management programs for the Aviagen Ross 308 product in colder environments that are similar to chicken farming conditions in Japan.

Bill Souther, senior vice president at Aviagen, said: "This delegation is an example of Aviagen's long tradition of forging strong customer relationships by sharing knowledge and collaborating with our customers to continually improve upon their success with our products."

The JCA visit began with the International Poultry Expo (IPE) in Atlanta, Georgia, where they reviewed new equipment and enthusiastically participated in a lighting programme workshop presented by D. Hank Classen, Animal and Poultry Science at the University of Saskatchewan. In addition to Atlanta, the group spent time at Aviagen's corporate headquarters in Huntsville, Alabama, where they received updates on product performance, veterinary issues and biosecurity objectives. In addition to the presentations, Aviagen representatives accompanied the group to a local Aviagen customer, Wayne Farms, to visit a broiler farm and a processing plant.

One of the highlights of the trip was the visit to an Aviagen customer in Canada. Here, the group heard customer presentations on Wintertime Ventilation from Ron MacDonald (P. Eng., President of Agviro, Inc.) as well as on Brooding for Success and Antibiotic-free Production from Derek Detzler (Research and Development Director with Fischer Feeds Ltd.). The tour also featured visits to three local broiler farms to experience and discuss brooding parameters, winter time ventilation techniques and broiler management criteria to enhance production parameters.

Hideaki Kokubo, Nippon Chunky Sales Manager, commented: "This mission has been a great success, and we have been impressed with what we have experienced. It has been practical and applicable for all who participated to observe how best practices from US and Canadian operations can be applied to the benefit of their own businesses. We thank Aviagen for their support of our JCA mission."

Members of the JCA delegates represented various aspects of the industry including feed processing and quality, meat processing, broiler management, breeder management and hatchery management. The JCA holds seminars three times a year and every year plans a visit abroad in conjunction with a conference to gain knowledge on best practices outside of Japan that they can tailor to suit there industry requirement at their own facilities.

For more information about JCA visit their web site [click here].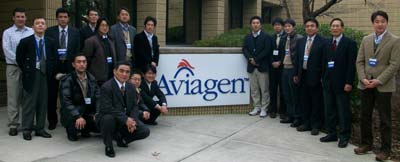 Members of the Japan Chunky Association (JCA) visiting Aviagen in Huntsville