Dutrion Launches New Drinking Water Concept
CANADA - Dutrion North America Ltd. launched a new concept for poultry drinking water at the International Poultry Exposition (IPE) 2010: DutriClean.
Dutriclean® is a concept to improve poultry performance with chlorine dioxide.

The pillars of the DutriClean Concept are Dutrion® tablets and DutriClean dosing units. This is a unique concept for the poultry producers.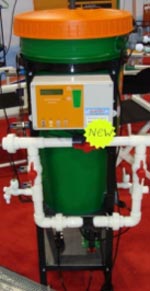 The result is innovative and affordable drinking water based on water sanitation with exceptionaly strong chlorine dioxide molecules without any capital investments.

Dutrion tablet is a transportable, soluble one component tablet. Once added to a specific volume of water, it reacts quickly into a long lasting chlorine dioxide solution.

Chlorine dioxide strips biofilm, prevents regrowth and eliminates all water-borne pathogens. This results in a clean, safe and healthier water outcome at the nipple.

The DutriClean units provide easy and trouble-free dosing according a drinking water dosing chart. The units are also capable for other products like acids, soluble feed additives and medication.

The Dutriclean Concept is very cost-effective. Poultry operations in several countries are satisfied with this enhanced and simple solution for drinking water improvement.

For more information, click here.