New Cobb Technical Appointment in Italy
ITALY - Veterinary surgeon Dr Andrea Pizzabiocca has been appointed technical services manager for Cobb Europe in Italy.
Dr Pizzabiocca, who graduated in 1996, has been working in the Italian poultry industry since 1997 with integrated group Agricola Berica, initially as broiler technical manager and then production and hatchery manager.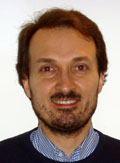 Dr Andrea Pizzabiocca
After several months' experience with Cobb technical teams in Europe, the Middle East and the US, he will start working in the Italian market in August.

Leasea Butler, technical service manager, Cobb Europe says: "We are excited to welcome Andrea to our Cobb Europe team. His appointment reflects the growing success of the Cobb700 among Italian customers."