Saving money and time – the no compromise injection syringes
At a time when several cases of highly pathogenic avian influenza are being reported in poultry across Europe, one needs to focus on building stronger immunity in livestock. Pullet vaccination is essential for supporting their health and help them spread protective antibodies to the flocks.
Many animal conditions require routine programmes against highly infectious disorders, such as Gumboro disease, which responds to no alternative treatment. Routine immunization must be adapted regionally to each disease and production sectors by veterinarians who are the best suited professionals to advise on which vaccinations to perform, proper methods and correct timing.
Wherever hand injection applies, high-end syringes should be selected, rather than low-cost models, wrongly perceived as a bargain. Precision instruments guarantee that all chicks receive the prescribed dose for optimal efficiency and pharma cost saving control. Ergonomic design providing for fatigue-free operation is also an important factor: vaccinating poultry flocks means a delicate work as every bird requires an utmost procedure.
Progenitor of the range, the well-known single barrel Socorex® 187 classic injector line and its great versatility, was soon followed by its double shot equivalent, the Socorex® 287 classic Twin model. First of a kind, it paved the way towards double shot manual injection for over 20 years now.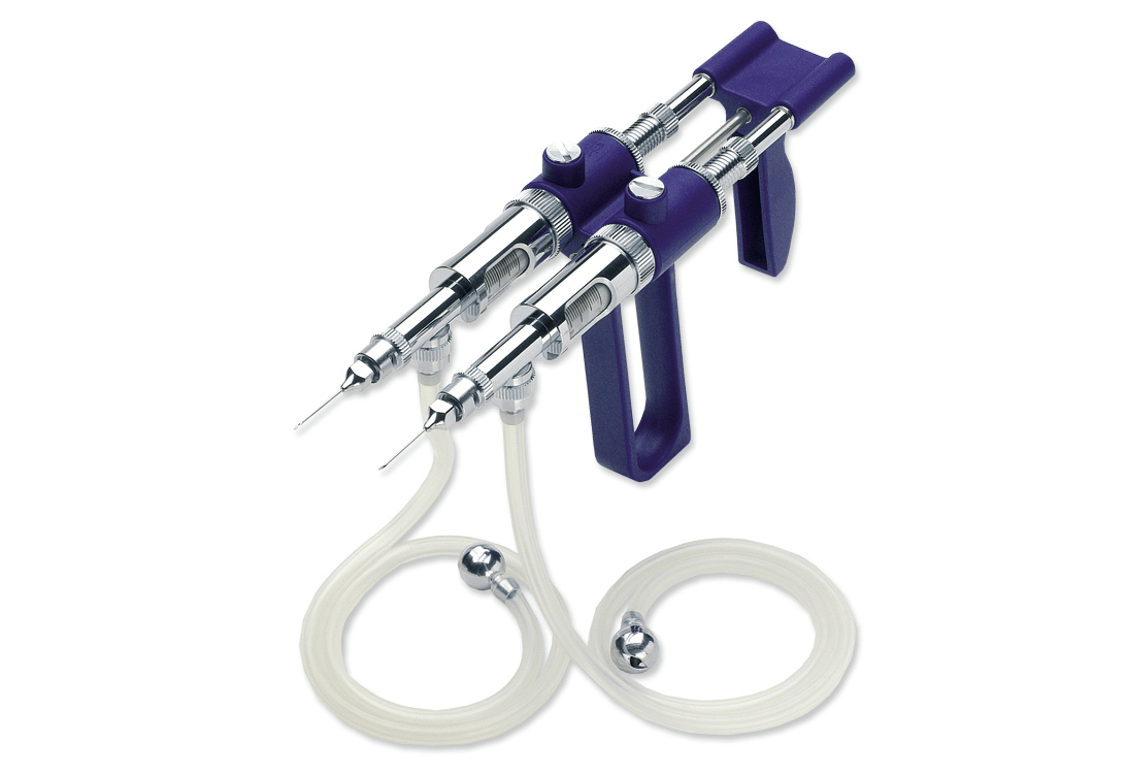 A true novelty at the time, it remained a most contemporary tool over the years, considering common inactivated vaccines such as New Castle Disease or Infectious Coryza can be inoculated simultaneously. Similarly, inactivated vaccines may be paired with live vaccines, such as Salmonella Gallinarum. In both examples, combining two distinct liquids reduces the number of injections and, consequently, the operation time altogether. Socorex® 287 classic Twin syringes speed up the vaccination process, doubling productivity output, without compromising reliability and efficiency, while guaranteeing the wanted high performance dosing obtained with the single 187 model.
Two liquid chambers can be adjusted separately, each barrel bearing an independent setting mechanism. Versatility of use is enhanced by a wide choice of versions, including vial or tube feeding – ranging up to 0.5 mL, 1 mL, 2 mL and even 5 mL for larger animals. The silicon tubing enables aspiration from any bottle or bag carried at the belt or hanging in a holster, as well as from a backpack container. Needle spacing of 28 mm ideally prevents too close-by injections in bird breast. Yet, an optional "single needle manifold" can be mounted for dispensing the two vaccines through one spot only, when prescription allows.
As a conclusion, investing in the premier technology of a durable self-refilling syringe with a double barrel, represents a paramount decision to achieve higher injection productivity and cost saving – without making any concession to the best animal health practices.
Find detailed videos about the Socorex® syringes on our YouTube channel as well as on the Socorex website.