Aviagen Hatchery Training Big Hit in Russia
RUSSIA - Aviagen recently held a two-day Hatchery Seminar at Permskaya Poultry Farm for over 30 hatchery specialists from the Prodo group, one of Russia's largest poultry producers.
The event was so successful Aviagen has already made plans for this type of seminar to become a regular feature for its key customers in this important market.

Following on from last year's focus on male management and fertility and maximising parent stock performance, the Aviagen Russia team is now focussing on technical support in hatchery management and incubation techniques.

The process is part of a conscious effort by the team to create a practical training programme with clear guidance on initial breeding right through to processing.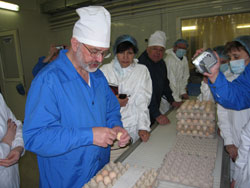 Dr Steve Tullet
Speakers at the seminar included Dr Steve Tullet, a specialist consultant to Aviagen, as well as guest speakers invited by Prodo from Petersime and Hartmann.

Jonny Harrison, Regional Technical Manager, commented: "Increased technical support to the Russian market is a key priority for us. This is an important phase for training and we are keen to ensure our Russian customers receive the best possible guidance.

Once again we would like to thank Dr Tullet for taking time to share his expertise with our clients. We would also like to thank Mr Sergey Karbulov and Mr Nikolay Roshak for letting us use their facilities, underlining the close working relationship we are able to enjoy."

Dr Tullet gave two presentations on the first day of the seminar on hatchery management and incubation methods. The second day involved a practical demonstration on how to analyse hatchery data involving egg break outs and recording methods. Attendees were extremely enthusiastic about getting first-hand, practical experience of new techniques through the practical demonstration and in smaller break-out groups.

A presentation following the practical demonstration clearly illustrated how the advice would benefit Prodo operations and was particularly well received by attendees.

Mr Nikolay Roshak, Prodo's General Director for the Division, commented: "Dr Tullet managed to use a scientific approach in advising us on our production issues. Practical solutions based on scientific knowledge are the biggest benefit such a specialist can give us. I am very happy with this Aviagen initiative."