Big Dutchman Shows Seven Innovations at VIV Europe
GERMANY - Big Dutchman is unveiling a number of innovations for the poultry industry at VIV Europe 2010 in Hall 12C.050.
Novel feed pan for turkey management
For many decades, poultry farmers all over the world have appreciated the benefits of Big Dutchman feed pans. Now an innovative development has been added to the long series of established classical products: Big Dutchman's Gladiator turkey feed pan, which is being presented for the first time at VIV Europe, is a pan which can be used for rearing as well as for growing purposes. A particular highlight here: the versatile Big Dutchman newcomer has been conceived specially to suit different pipe diameters. This guarantees optimum conveyance speed, even in very long turkey housing where larger pipe diameters are used.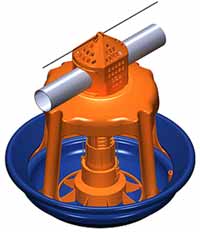 The feed saving collar on the growing pan helps to prevent feed losses
Two different feed dishes have been developed for the Gladiator. A low dish in the rearing phase ensures that the birds have easy access to their feed. As the pans can be filled completely, the poults are guaranteed an ideal start. In the growing phase, the rearing dish can be easily exchanged for a dish with an integrated feed saving collar.

A further advantage of the Gladiator is the flooding mechanism: as an alternative to being filled manually, the pans can also be filled automatically by means of a centralised flooding arrangement. This naturally means less work for the turkey farmer. The flooding slide is also fitted with weights to prevent any unintentional adjustment of the feed level by the birds.

The simple arrangement for exchanging the pans also represents a further form of work facilitation: plug-in systems exclusively are used which means the dishes can be removed and re-fitted easily. Utmost importance has also been accorded to ideal cleaning conditions: the open design of the Gladiator guarantees that the pans can be cleaned easily as well as thoroughly after each batch.
Broiler house emissions reduction with MagixX-B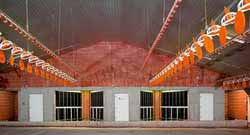 The application of MagixX-B is always the right decision in order to significantly reduce dust and ammonia emissions from exhaust air
Whenever it is a question of approval of broiler houses in the vicinity of built-up areas or woodland, authorities all over the world are increasingly frequently imposing requirements for a thorough cleaning of the exhaust air. MagixX-B, an exhaust air treatment system that has been newly developed by Big Dutchman, meets this requirement in an exemplary way. Experts confirm: MagixX-B is the first exhaust air treatment system for poultry management, which fulfils the demanding criteria of the DLG (German Agricultural Society) Signum test for ammonia and total dust with a filtration efficiency of at least 70 per cent. The new exhaust air treatment system for broiler management can be seen for the first time at VIV Europe 2010.

As the certification measurements prove, the reduction in emissions can be up to 85 per cent in the case of ammonia and up to 89 per cent in the case of total dust. A positive side effect of the dust separation: germ and odour emissions can be reduced significantly. There are, however, good reasons for these positive results. Although MagixX-B is brand new on the market, the working principle is based on extensive know-how and technology that have already proved their worth very successfully in other Big Dutchman business divisions.

The single-stage exhaust air treatment system has been optimised with regard to operating costs. This is due to the modular design. Only the required number of modules operate in accordance with the ventilation requirement. This helps to reduce operating costs. And it is possible to make energy savings of up to 40 per cent compared with non-modular exhaust air treatment systems.
Innovative gasification system to be introduced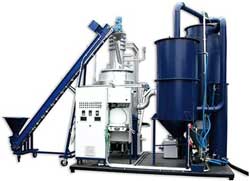 150 kW gasification system with conveyor belt, switching and control cabinet, gasifier, gas cooling and gas cleaning (from left to right)
Environmentally friendly, climate neutral and reliable: for the first time ever on display world wide at VIV Europe will be a gasification system which transforms biomass, for example, from poultry manure into energy. The key feature of the Big Dutchman innovation is that, except for nitrogen, all the components important for fertilisation are preserved in the residual ash. Genuine dual use is thus achieved – quite independently of wind and sunshine.

The manure is dried, pressed into pellets and conveyed to a gasifier where it is converted into gas by means of thermochemical conversion. The only by-product that remains is ash, which is a very valuable fertiliser. Subsequently the energy produced in this way is processed in the combined heat and power plant (CHP) to generate electricity and heat. Furthermore, in addition to chicken manure, other by-products such as digestate from biogas plants or sugar cane can also be used for the same purpose.

The result is impressive: the amount of energy produced in a 150kW gasifier allows to supply thermal energy for 25 households for more than one year (maximum 10kW heat output) and to provide 200 households one year-long with electricity (at an annual average use of 0.75kW per household).
Amacs becomes Amacs 2.0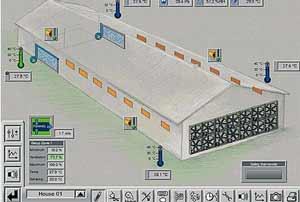 With Amacs 2.0 user rights can be granted for complete housing complexes as well as only for individual houses or functional areas such as climate control, for example
Amacs 2.0 is the newest version of Big Dutchman's Agro Management and Control System for poultry management, based on state-of-the-art technology and highly successful all over the world. Amacs 2.0 stands out from the crowd with its numerous new functions. The most significant of these is that Amacs 2.0 can be connected to an iPhone. Furthermore, the user administration has been significantly expanded. The innovative update for egg production, broiler growing and broiler breeder management is to be presented to the wider public for the first time at VIV Europe.

Amacs 2.0 covers an impressive number of brand new features. One of these includes the fact that up to 20 people can now access the system simultaneously – and work independently of each other in real-time. Also new is that a considerable number of varying user rights can be granted and that it is possible to manage 50 user profiles altogether. These range from full access by the farm controller to and thus the control of a whole farm complex to limited user rights which may not, for instance, exceed the right to control the climate in a clearly specified amount of houses.

Further features of Amacs 2.0 include control of additional EggCams, with which it is now also possible to scan the wider egg belts in aviary houses. The innovative Big Dutchman camera technology photographs every egg in the house, thus achieving 100 per cent counting accuracy. Furthermore, with Amacs 2.0 the Digital EggFlow System is further optimised. This has the consequence of even better control of egg belts and thus even better capacity utilisation of sorting and packing machines.
Easy cleaning of dust filters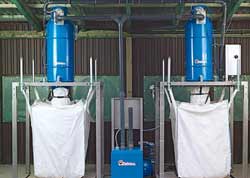 The StuffNix should be cleaned at regular intervals, depending on the amount of dust. This can be done very simply using the vacuum cleaner unit, which has been specially developed for the dry filter.
Poultry managers have something to look forward to! Big Dutchman, recognised leader of this market sector, is presenting a semi-automatic vacuum cleaner unit specially developed for StuffNix dust filters for the first time at VIV Europe 2010 in Utrecht. The new system enables easy cleaning of the Big Dutchman dry filter, an efficient solution for poultry housing with high levels of dust emission. And subsequently the dust can be distributed on to fields together with the poultry manure.

The dust is sucked up from the ground and the filter wall and taken through a pipe system to a central dust separator. When the maximum filling level is reached, the second dust separator is automatically connected. Beneath the dust separators are so-called Big-Bags in which the dust is collected and stored prior to further use.

Apart from the fact that special brushes are used, this cleaner functions in virtually the same way as a normal household vacuum cleaner. The vacuum cleaner unit has been specially designed to use clean air only. This ensures a long service life.
Innovative drinking system for poultry management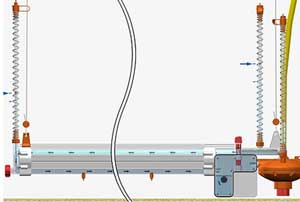 Distinguishing feature of Duo Flow is the constant circulation of water in the nipple tubes
At VIV Europe 2010, Big Dutchman introduces a novel drinking system for poultry management with constant circulation of water in the nipple tubes. This distinguishing feature ensures virtually identical water quality, water quantity and water temperature at every individual drinking nipple. And the positive result: each animal receives an optimum supply.

A further significant advantage of this innovative system is the fact that each drinking line can be filled with water from both sides. This makes it possible to install continuous drinking lines even in the case of very long housing dimensions. A patented plug-in system simplifies the installation as well as dismantling of Duo Flow.

Two super-imposed and inter-connected pipes make the water circulation possible. "Important medication or other additives thus reach the animals instantly. And the water circulation means that there is no need for poultry owners to worry about residue. This naturally represents a major benefit as far as hygiene is concerned," Product Manager, Roland Busse, says with regard to some of the further advantages of Duo Flow.
New control for broiler breeder houses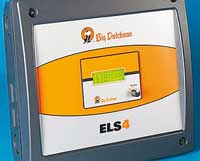 New from Big Dutchman: ELS4 for automatic control of feed line heights
Another attractive Big Dutchman new product to be presented at VIV Europe 2010 is the simple-to-use ELS4 controller for broiler breeder houses. It allows the farmer to adjust the height of feed lines automatically – accurate to the centimetre. This new system means quite significant work relief for the poultry farmer.

Up to four feed lines can be adjusted. The maximum and minimum height of each feed line can be configured individually. Any changes required can be made quickly and easily. This is of particular advantage at the beginning of the production phase when the birds are still growing or follow-up adjustments need to be made. A further benefit: feed losses can be minimised. The current height of the connected feed lines is clearly shown in the ELS 4 display.