Brazil Likely to Triple Egg Exports
BRAZIL - The Brazilian Poultry Exporters Association (Abef) also wants to start promoting eggs exports.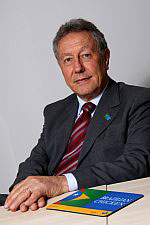 Turra: Brazil may become a large worldwide supplier of eggs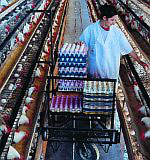 Exports totalled US$ 40 million in 2009
The matter was discussed last Thursday (8 April) by the association with sector companies based in the states of Rio Grande do Sul, Santa Catarina, Paraná and São Paulo. The Arab world is currently the main market for Brazilian eggs.

The chairman of the Abef, Francisco Turra, told ANBA that the association decided to submit a commercial promotion project to egg farmers mainly because Brazil has a "strong potential" abroad, as can be attested from chicken meat, which reaches 154 countries, and meets all of the requirements to become one of the world's main egg suppliers.

Besides, according to him, at the several business events that the association attends, the strong international demand for eggs becomes clear. Brazilian egg producers, however, do not boast the same level of organization as the chicken industry's. Last year, for the sake of illustration, eggs exports totalled approximately US$ 40 million, whereas revenues from poultry sales totalled US$ 5.8 billion, according to data supplied by the Abef.

"That figure may triple fast," said Mr Turra. For such, he stressed the need for opening markets and for technical and sanitary training to be offered to producers, so they may comply with international requirements. The executive claimed that he spoke to the Agricultural Defence secretary for the Ministry of Agriculture, Inácio Kroetz, who committed to appoint an official to take care of the egg sector.

According to Mr Turra, presently there are only eight egg exporting companies in Brazil, but there is potential for more than double that figure. "There is potential for broadening the domestic market and greatly increasing the foreign one," he said.

The Abef intends to replicate, in the egg sector, the marketing and commercial promotion actions it implements in the chicken sector, such as participation at international fairs with support from the Brazilian Export and Investment Promotion Agency (Apex).

Now, it is up to the farmers to engage themselves.