CME: Upward Shift in Broiler Cut-Out Values
US - We thought some historic perspective on the absolute and relative values of the major meat species might but useful to readers as we watch these unusual markets, write Steve Meyer and Len Steiner.
The charts below show the weighted average wholesale – i.e. cut-out – values for beef, chicken and pork as well as the price spreads between each pair of values. The beef cutout value is the USDA Choice cut-out for 550-700# carcasses for 1998 and for 600-900# carcasses since 1 January, 1999. The pork cutout value is for 51 to 52 per cent lean pork carcasses and the chicken value is the 12-city composite broiler value.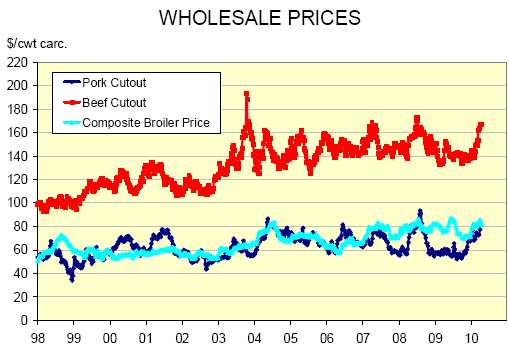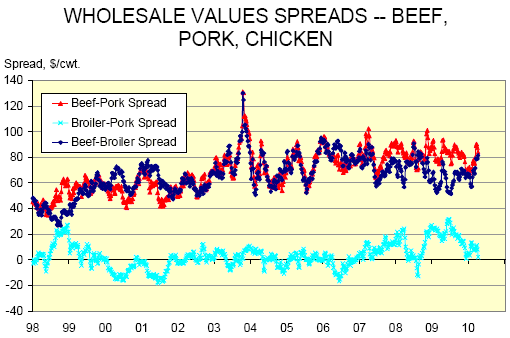 A few observations:
All three of the wholesale values have stayed, generally, within a 'normal' trading range since 2003 with the only significant departures being the upward spike for pork in 2008 and the low values for pork last spring and summer (due to H1N1 influenza and higher-than-expected slaughter and weights).


Broiler cut-out values shifted upward rather quickly after corn prices rose in 2006. That should not be much of a surprise since the generation interval is much shorter for chickens than it is for either pigs or cattle. The increase has kept broiler values consistently higher than pork values since late 2006 – except, of course, for the 2008 pork spike.


Both beef and pork have seen 'long dry spells&sdquo; for wholesale values since mid-2008 as the economy, H1N1 and generally ample supplies have take their toll. Both price series have risen quickly this year — pork due to lower supplies and beef due to what appears to be the beginning of a recovery for the food-service sector.


As with retail prices, all three of these wholesale values are on sharp up-trends and are nearing their all-time highs. While seasonal pressure may come to bear on the beef cutout value before it approaches the 2003 levels (which were driven by Canada's BSE problems and appear to us to fit the definition for outliers), it now appears very possible for the others to reach all-time records.


Beef-Pork and Beef-Broiler prices spreads have risen in recent weeks but are not at all unusual from a historic perspective. In fact, the Beef-Broiler spread as been lower than normal for some time due to the quick rise in broiler values in 2006 and the much slower increase in the Choice beef cutout value. Current trends suggest that the Beef-Chicken spread may continue to grow but $80 – plus pork cut-out values will keep the Beef-Pork spread within its historic range.


The Broiler-Pork spread is near its lowest level since 2006. Lagging pork wholesale values are the primary reason that this spread has been as much as $31, a level it reached in the aftermath of last year's H1N1 crisis.
Please see the full report for a Special Executive Report from CME Group regarding the listing of the October 2011 Live Cattle futures contract.
Further Reading