FAO Officially Recognises IPC
FRANCE - The UN Food and Agriculture Organization (FAO) has formally recognised the International Poultry Council as the official organisation representing the interest of the global poultry meat industry. The ceremony took place at the IPC's meeting in Paris earlier this week.
Jim Sumner of the US, president of the International Poultry Council (IPC) and Dr Samuel Jutzi, director of the Animal Production and Health Division of the Food and Animal Organization of the United Nations (FAO) have signed a memorandum of understanding between the organisations during the IPC's meeting this week in Paris.

Under the MOU, FAO recognises the IPC as the official organization representing the interest of the global poultry meat industry. FAO is the third international body to officially recognize the IPC. The World Organization for Animal Health (OIE) and the Codex Alimentarius Commission previously recognized the organization.

Taking part in the ceremony were members of the IPC Executive Committee: Ricardo Santin (second vice president, Brazil), Tage Lysgaard (first vice president, Denmark) and Dr Vivien Kite (member-at-large, Australia) as well as Francisco Turra (president of ABEF, the Brazilian Poultry Processors Association), also witnessed the signing.

The IPC meeting continue until tomorrow, Friday 16 April.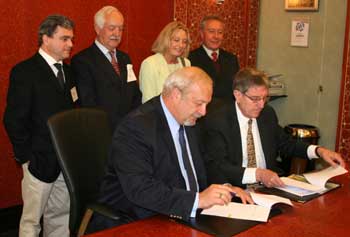 Jim Sumner, president of the IPC (seated left) and Dr Samuel Jutzi of FAO sign the MOU. Standing are Ricardo Santin, Tage Lysgaard, Dr Vivien Kite and Francisco Turra.