Granja Crusvi Chooses SmartPro
SPAIN - Catalonian integration, Granja Crusvi, is among the first in the world to adopt Pas Reform's latest advancement in hatchery technologies.
The company is to renovate part of its existing hatchery, replacing its entire hatcher capacity with the new SmartProTM system, launched this year.

The Reus-based integration was also among the first to adopt Pas Reform's SmartSetTM setters, when they launched in 2005.

Evarist Caparo, general manager of Granja Crusvi, said: "The technical results we achieved with Smart have been fundamental to our continuing growth over the past four years and we are once again impressed – this time with the new 'modular design' concept of the SmartPro hatchers.

"It is a unique offering in the hatchery sector. SmartPro retains all the strength of modular, single-stage incubation, while further enhancing climate control on a larger scale, to deliver reliably robust day-old chicks."

Pas Reform's representative in Spain, Jaume Sauntaularia, explains: "Having worked with Granja Crusvi for the last five years, we are very pleased that our continuing collaboration has culminated in the first phase of a complete hatchery remodelling – and delighted that Granja Crusvi yet again shows its pioneering side – to be the first SmartPro adopter in Spain."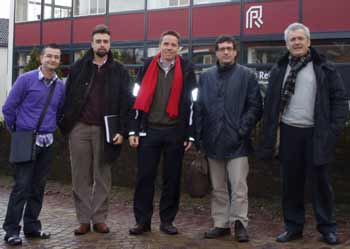 left to right: Pablo Torres, Javier Asensio and Bouke Hamminga (Director of International Sales and Business Development for Pas Reform Hatchery Technologies), Evarist Caparo and Jaume Santaularia.